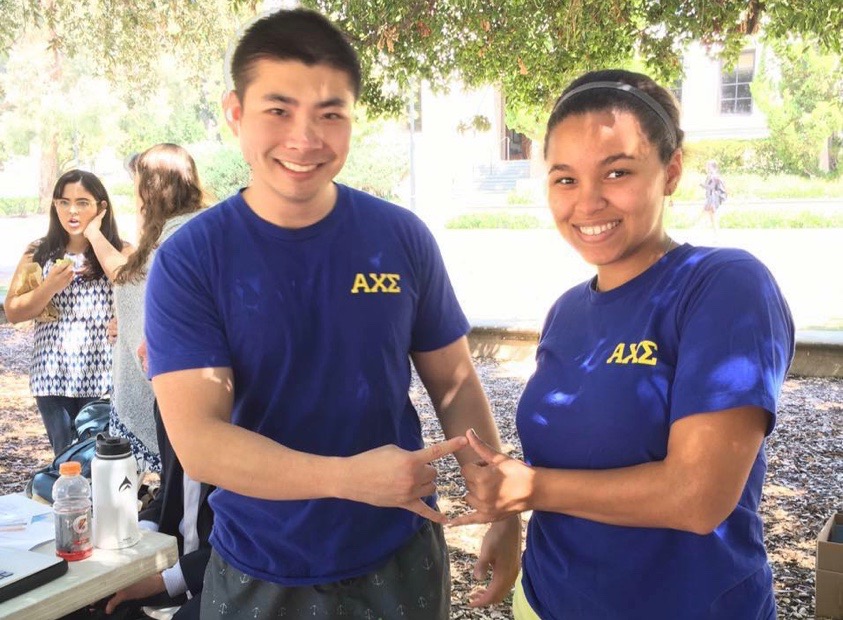 If you had asked me in my first year at Oxy if I would ever be the president of a fraternity, I would have said, "impossible".
But here I am, in my senior year, the president of Alpha Chi Sigma. Alpha Chi Sigma (AXS) is a national professional co-ed fraternity based in Chemistry. The purpose of our organization is to provide a space where people from various science and non-science backgrounds can come together to share their enthusiasm towards Chemistry and the other STEM fields.
As a woman of color, I have often felt "out of place" in my science classes because for so long STEM has been heavily dominated by white males. Ever since I joined AXS in my sophomore year, I have felt that I finally belong in the scientific community. This fraternity has given me the environment to express my love for Chemistry and the sciences in a nonacademic, social setting with other like-minded people who share and support my passions. Alpha Chi Sigma's uniqueness not only comes from our devotion to Chemistry both as a science and as a profession, but also comes from our distinct members who are individuals with a variety of majors, backgrounds, and identities.
Alpha Chi Sigma actively volunteers throughout the year, alongside holding fundraising and recruiting events. One of my favorite parts of AXS is our priority to serve the community. We volunteer at various events both at Occidental College and in the Los Angeles community. Each semester we help young scientists within the local community in all sorts of ways. For example, we partner with the Boy Scouts of America to help scouts earn their Chemistry merit badge and are currently working to establish a connection with the Girls Scouts to help them earn their science badges.
Furthermore we volunteer as judges for a local middle school's annual Science Fair and help run the Caltech Science Olympiad. By serving our community, AXS believes that by showing our passion for science, we can inspire young students to pursue science and that science is for everyone, not just for those with privilege and access. By providing an empowering environment to express individual interests in science, year by year we are helping foster a diverse scientific community, where people like myself feel like they finally belong within the world that is their passion.