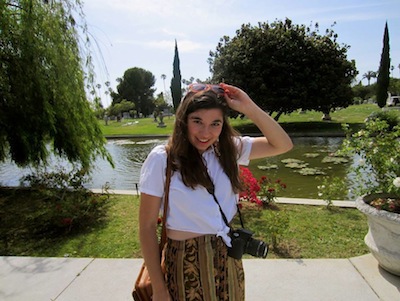 "Never give up on something that you can't go a day without thinking about." –Winston Churchill
The other day at my internship, my supervisor asked me what that something was. It made me put a lot of things into perspective. Mainly it made me think about how I will one day successfully get my own Ben & Jerry's flavor. (Hey, if the Dave Matthews Band can do it, so can I!)
This summer I am an intern at the Writer's Guild Foundation Library and, for the amount of time I spend reading Parks & Rec scripts, it's a good thing I am not getting paid. Aside from it being an amazing place to spend time, my favorite part of having an internship in Los Angeles is how much it makes me feel like an adult. I stop at the Old Farmer's Market for lunch and head over to the Library, where half of my coworkers assume I'm 24 and able to join them at the bar after work. Then I get to drive home in rush hour traffic, which apparently starts at 3:30 these days. As if that wasn't enough, I'm subletting a room in an off-campus house with some friends for the summer. (Shout-out to my housemates and our newly adopted kitty!) Shopping for real groceries that don't only require a microwave is a breath of fresh air. I feel like every day I am quoting Liz Lemon, "I can have it all!" It truly has been the most satisfying summer I have had to date.
However, the internship is only twice a week. And having five free days is much more time than I
anticipated. What to do with all that time?? One month in and I've abused our nice television a bit more than I'm willing to admit. (Did I rewatch an entire season of 30 Rock in one day? And maybe two seasons of Bob's Burgers and three of Portlandia?) I started job searching and applied to quite a few places. And Trader Joe's, if you're reading this, no, I will not stop calling once a week to check if any positions opened up. Thankfully I still have my job as a tour guide and am enjoying showing people around our barren wasteland of a campus during the summertime. But getting another job is not as simple as I initially hoped. So when my supervisor quoted Winston Churchill earlier this week and asked me what I can't go a day without thinking about I immediately knew the answer was screenwriting. He gave me two great books to read during my breaks and provided me with more encouragement than I have ever received from anyone that hears my career plan. So, yes, I am sad that no one has hired me for the summer. But what I realized in that moment was that I did actually have the perfect use for all of that free time – writing. I am so excited to finally get the writing done that I always want to do while I'm swamped during the school year. And no, it may not make me money…yet…but it's something that, if I don't do now, I never will. And, well, who knows the next time I will have this sort of free time and motivation? Those two things rarely go hand-in-hand, as demonstrated by every episode of Friends. (For the amount of time they had to spend at Central Perk, not much 
really
 got done over there.)
So that is what's up with me. The most "adult" summer I have had so far. It's weird not to live at home, but it's also exhilarating to feel like my life is finally getting started. Plus, my 20th birthday is in two weeks and I'm really excited to be out of the phase where I can simultaneously be categorized as both a "teenager" and an "adult."  Now I'm off to do some writing of a different nature. And to brainstorm some cutting-edge ice cream flavors."