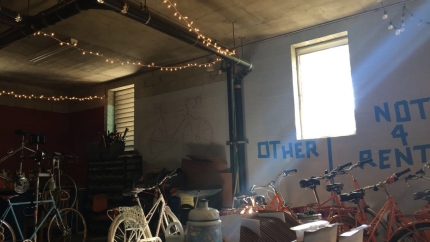 I may be biased, but working for Occidental's Bike Share has got to be the single most excellent job on campus, maybe even in the world. If you have been living under a rock all semester and don't know who we are, let me explain. Our shop, aka the "bike cage," is located on the first floor of the Berkus Hall parking garage (and you have also probably seen us on the quad on Fridays playing the classic recess game four square). We are the ones responsible for those spunky orange and white bikes you see floating around campus! We rent them out to students to use for a whole week for the bargain price of exactly zero dollars and zero cents. Eagle Rock is a great little town to explore by bike-back. You can get to both the best pizza shop (Town Pizza) and donut shop (Donut Friend) on York Blvd. in less that 15 minutes! We also maintain and perform repairs on our own bikes or even non-Bike Share cycles that need some love.
Working with Bike Share is kind of like running a small business. We manage all our own bikes, supplies, finances, rentals, fees, etc. As a prospective MBA-seeker, Bike Share has been an invaluable experience that has taught me more than I could have ever learned in a classroom about leadership, communication, teamwork, initiative, and problem solving. Working for Bike Share is also incredibly rewarding; people truly appreciate the work you do, and seeing them come back again and again to re-rent their favorite bike is always a good feeling.
The biggest reason I feel that Bike Share is the best job on campus is not only because we get to contribute something that is both sustainable and sensible to the community, we are truly a family. The Bike Share team is a close-knit band of weirdos that has somehow bonded over our quirky love of tinkering with bikes. We really are just kids in grown-up bodies, and that's totally okay with us. Except when it comes to four square – then it is war.
If you want to be one of the cool kids on campus and rent a bike, be sure to come visit us in our very aesthetically-pleasing workshop Tues-Thurs 12-5, and play four square with us on Fridays on the quad!