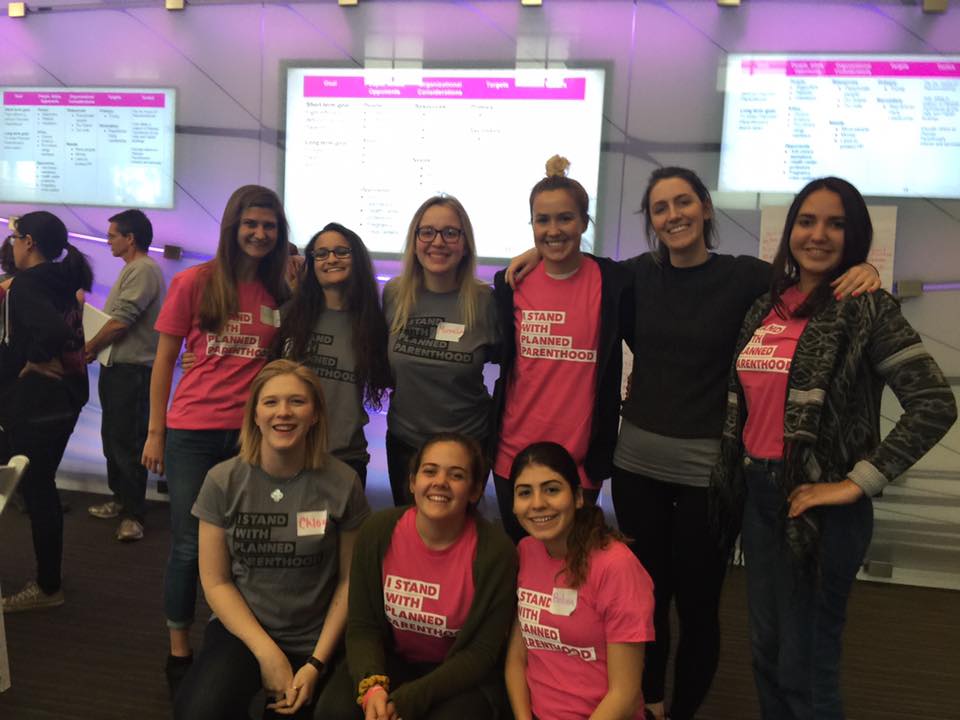 #TBT Dance with Sex Positivity
Last November, one of the club's most successful events was the #TBT Dance with Sex Positivity. With everybody's favorite 2000s songs and a sex/ body positive environment, this dance was a fun opportunity for students to reclaim their most awkward middle school dance. In addition to dancing, there was a memory wall where students could share their most awkward moments from middle school, a photo booth with feminist and sex positive props, and a raffle where students could win prizes (vibrators, lube, handcuffs, feminist socks, and more!).
Photos by Georgia Arnold '19
Speaker Event: Christine Charbonneau, "Reproductive Rights in a Trump Era"
On February 12 of this semester, Planned Parenthood Club had the honor of hosting a speaker event for Christine Charbonneau, who has been the CEO of Planned Parenthood Greater Northwest and the Hawaiian Islands for over 30 years. Christine Charbonneau came to Occidental College to talk about reproductive rights in the Trump era. With a lot of uncertainty on campus of how a Trump presidency could affect the trajectory of reproductive rights, the event was an amazing opportunity for students to be informed by somebody who has been working in Planned Parenthood for many years. During her speech, Christine Charbonneau talked about her inspiration for getting involved in Planned Parenthood and her career. In addition, she discussed the Global Gag Rule, repealing of the Affordable Care Act, and what a replacement for the ACA could look like. Most of all, Christine Charbonneau emphasized the importance of young voices, and urged students to take action by volunteering locally and voting. She has a lot of faith in the support behind Planned Parenthood and said that while there is a change in trajectory for PP, "that's when we start getting directed about what we want to do". Planned Parenthood Club livestreamed the entire speech, which can be found on their Facebook page; we highly recommend that you watch it and share it with others!

RA Event: All About IUDs
On March 21st, RA Audrey Shawley and Planned Parenthood Club are putting on an event called "All About IUDs". The event will be an informal space for people to voice their questions and concerns about IUDs as well as other forms of long-lasting contraception. Audrey Shawley and Planned Parenthood Club will be giving information on different brands of IUDs, the pro's and con's, what to expect from the procedure, and what services are provided at the Planned Parenthood clinic in Pasadena. During the discussion there will also be genitalia cookies for everyone to decorate!
Pillow Talk: Teaming up w/ Active Minds to Discuss the Intersection of Sexual and Mental Health
This April, Planned Parenthood Club is teaming up with Active Minds to host a Pillow Talk in the Green Bean Coffee Lounge. People participating in the pillow talk will break up into small groups to discuss topics surrounding sexual health, pleasure, and mental health. This pillow talk is meant to be a relief event where students can show up in their pajamas, make crafts, and have both fun and serious discussions in a smaller group setting. In addition to crafts, Planned Parenthood Club will be giving out question sheets that people can fill out with a sexual partner to practice healthy communication.