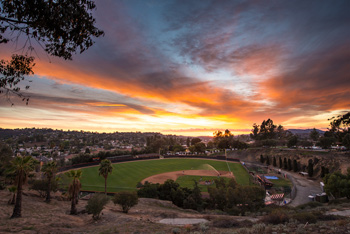 Every year, winter break serves as an excellent reminder of why I love being at Oxy.
Though it is nice to see family and friends while celebrating the holidays, it can be quite the shock. You go from being around your friends 24/7 and always being busy, to a much slower pace of life in comparison to campus. Nonetheless, the change is good for the first couple weeks, but by the end, myself and many of my friends agree that we want to get back to campus as quickly as possible.
Being a baseball player, I spend a sizeable chunk of each day working out and playing catch. As the years have gone by, fewer and fewer of my friends from home still play baseball, so it becomes increasingly difficult to find people to work out with. Fortunately I have friends who play at Vassar and Amherst who both happen to be catchers. Having two people who are willing to catch bullpens is quite the blessing. We swapped stories about being D3 baseball players at small liberal arts schools, and we all have similar funny stories about teammates and parties we went to, costumes for halloween games, difficult classes and early morning lifting sessions. It's awesome sharing those experiences with friends outside of Oxy, and it's reassuring that we all struggle with the same things.
Once new years rolls around, I really start to miss walking through the oak trees in the quad on perfect spring days. You really gain a much greater appreciation for the campus we have when it is empty and students haven't arrived yet. I'm making it a point this semester to maintain the longtime Oxy baseball tradition of quadsitting, popularized by Joe Kling '15 and Wilson Terral '16, where we spend hours on end sitting in the quad while other students filter in and out of the benches and waiting for afternoon practice.
I returned to campus a little more than a week early to get ready for "camp week" which is the first week of baseball practice. Josh Cohen and I drove down from the bay area and stopped at Pinnacles National Park on the way. I highly suggest checking it out for any of you bay area Tigers; it's a hidden gem. Josh and I both live off campus in the Baseball Home, and as the team started to arrive, we quickly rose from our normal 5 tenants to 11. For a couple nights, there were two to a bed and every couch was taken. Nothing beats coming back to campus and seeing your teammates after a much too long 5 week break. That weekend, our home was just as full as our hearts.
Camp week itself is brutal. Each day starts with 6 am meetings and conditioning, two practices and a night meeting. It's tough but it's a necessary evil for preparing for the season. This year the weather compromised our practice schedule a little, but we found a way to get good work in between the raindrops. The team is shaping up to be pretty good, but we still have some pieces of the puzzle to put together.
One of the best parts about being on campus early with the team is that we spend almost every minute with each other. As the self-appointed funniest team in the SCIAC, camp week is when we come up with our best jokes and best content for our instagram account, @boysoftigerbaseball. Marketplace meals become a breeding ground for our hilarity. The biggest highlight of this camp week came when Josh smashed a plate of tofu on Will Martell's face and #tofusmash was born. Many of these jokes live on through the season and even determine a theme for it. In 2016, Oxy baseball was pirate themed. This year, it's anyone's guess. All in all, winter break really just makes me even more excited for baseball season and the spring semester to begin. Go Tigers.