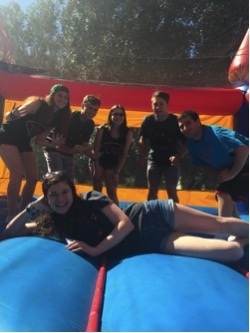 Whenever anyone asks me what my favorite Jewish holiday is, I immediately say Purim. But what exactly is Purim? Purim is essentially the "Jewish Halloween." Jews come together to read the Megillah, a Jewish document that features the story of Queen Esther. We celebrate Purim by dressing up, going to carnivals, and eating hamentaschen, which are triangular cookies shaped based on the hat of the villain (Haman—BOO!!) in the Purim story
In past years, Oxy Hillel has celebrated Purim by hosting a small event for Jewish students to come together to act out the story of Esther and eat hamentaschen. However, as Oxy's Hillel President this year, I wanted to spread the Purim spirit and educate the entire Oxy community on my favorite Jewish holiday. One of the best parts of Purim is attending carnivals so I thought that a great way to spread the Purim spirit would be to host a school-wide carnival.
I knew creating a carnival would not be an easy task, but I was up to the challenge because I really wanted to give back to the Oxy community. Working closely with our Hillel advisor and with the diligent Hillel board members, we attended many meetings and discussed ideas with various people in order to bring our vision to life.
Through our hard work, we organized a carnival with a bouncy house, hamentaschen, cotton candy, and spin art all for free in the middle of our Academic Quad! I had only dreamed of putting on a large-scale event for the community and never really thought it could become reality, but seeing our hard work come together and the faces of happy students was so exciting and rewarding. Using Oxy's resources, we were able to work together to bring our vision to life and educate Oxy students about a Jewish holiday they had probably never heard of. So thank you to the great Hillel board members, our advisor, and everyone who came to the carnival to celebrate my favorite holiday with us! Chag Sameach!