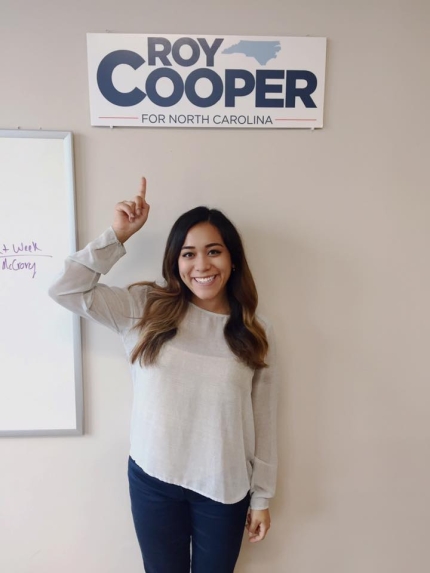 My what an election cycle it has been!
For a politics major like me, watching elections unfold on my TV and social media is exciting (and often exasperating) enough, but having the opportunity to become involved has been even better. Through Oxy's Campaign Semester program, I am working to elect Attorney General Roy Cooper for Governor of North Carolina.
Working as the Communications Fellow on the campaign team has been very exciting, especially considering the amount of times NC has been in the national spotlight. Though I would agree that most campaigns are as unpredictable as they are exciting, this campaign in particular has been quite a ride.
North Carolina has dealt with fallout from the NBA, NCAA, ACC, CIAA and business investors over HB2; had to weather with a tropical storm, gas shortages, and the shooting of a black man in Charlotte.  All of these external stories have kept our team on our toes.
My main task here is monitoring the media! I closely follow all local and national news outlets for coverage on the candidates and relevant topics including the controversial HB2 law, among other issues. I flag all breaking news for the staff, track coverage of speaking engagements, compile news clips that get sent out to the team twice a day, and generally keep an eye on social media, TV, radio, and online coverage of the gubernatorial election. This is a 24/7 assignment – keeping me both very engaged and slightly tired!
In addition to my regular tasks, I also assist the Communications Directors in writing press releases, media advisories, prepping for interviews, maintaining TV news clippings, transcribing interviews, and writing blog posts for Roy Cooper's "The Record."
My first week in Raleigh I met Josh Stein, the democrat running for Attorney General, and helped the finance team at a Cooper fundraiser at a home in Chapel Hill.  Josh gave me a shoutout during his remarks at the fundraiser – he noted that this gubernatorial race really is as big as they say, if they're getting interns from California.
It was really exciting to go out and chat with local folks who are excited about the change Roy will bring to the state.  Fundraising events are really fun to work.  Aside from checking in guests and monitoring the event, interns also get to snack on the catered food and chat with guests, and occasionally with Roy.
This past weekend, another intern and I worked a campaign ad shoot. We were up bright and early at 5:30am and busy until 6:30pm. We assisted the filming crew (moving things around, being extra hands, setting up food and drinks, getting waivers, etc). One thing I've learned, is that it takes 5 hours to produce 60 seconds of video.
Nonetheless, it was a great experience seeing how these ads are filmed, seeing Roy in action, and being a part of the process. It also gave us an opportunity to travel out of Raleigh and into Fayetteville, and to meet the individuals who produce political ads for a living.
We work 40+ hours a week for three and a half months, and stay with supporter housing through Election Day.  Like students who study abroad, being on this program gives us a lot of independence. We have to feed ourselves, figure out transportation to and from work, go to work, and be temporary full-fledged adults. We check in every Sunday with professors Freer and Drier, but other than the emails, we're very much on our own.
Thus far, it has been interesting to see some of the cultural differences between California and North Carolina. As someone who was born and raised in California, listening and becoming friends with people who come from very different backgrounds has been a great learning experience.
The best part is knowing that I'm working to elect someone who cares about the same issues I do – what's more, this has given me incredible insight into the amount of blood, sweat, and tears it takes to run a successful campaign.  It's so cool to see how people from all over the United States, with little personal attachment to the Tarheel State, (we have staffers from DC, Indiana, Virginia, Idaho, Maryland, Beijing, and California) have become so incredibly invested in the outcome of a gubernatorial election, and the real impact it has on the people of North Carolina.
We've got 39 days left – and so far, I've expanded my professional experience, pushed my personal comfort zones, and had a blast indulging in my love for politics.