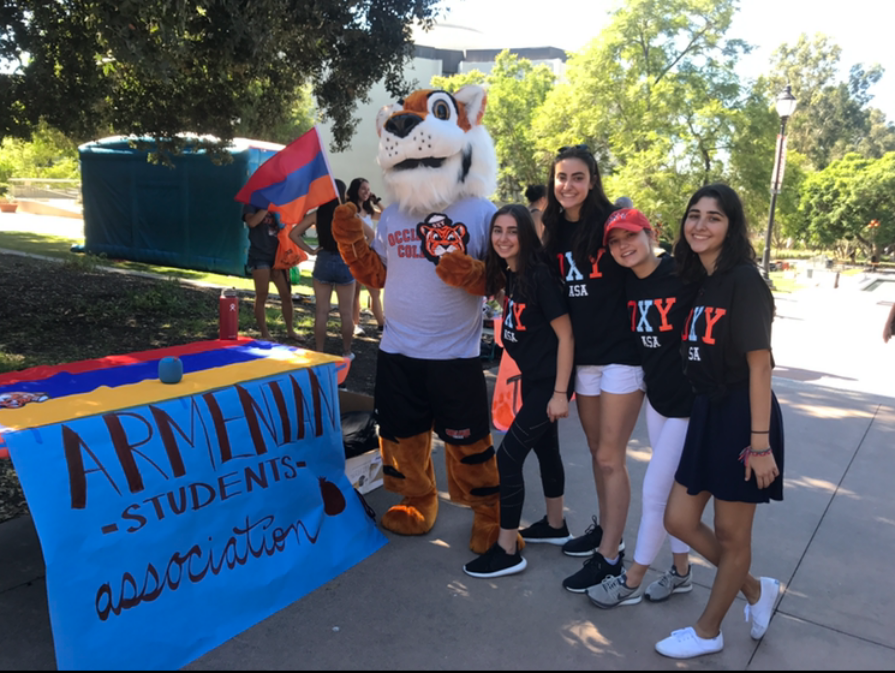 I look at this badge hanging on the wall right across from me that says "Activist" from the "Armenian Women in Media" panel I recently went to as part of the ANCA's (Armenian National Committee of America's) Grassroots Conference, and I am inspired to share what this activism looks like in my culture and personally.
Since the reactivation of ASA, we have held programming across campus to provide the Oxy community with opportunities to learn more about Armenian history and culture and give back to the Armenian community here in Los Angeles. For Armenian Genocide Commemoration Week in April, ASA passed out genocide awareness ribbons and stickers and flyers about what the genocide is. We did a quad sit, where we displayed posters about genocide denial, the lives massacred in 1915, and the ongoing need for justice. That same week, we held a showing of "The Promise," a movie highlighting a story from the Armenian Genocide.
We have gone on
to host our infamous ponchik (Armenian donut-like desserts) sales, in which we raise money for Our Lady of Armenia Summer Camp, a camp where orphaned children spend their time taking classes, do activities, and learn more about their culture and gender equality. We visit Armenian schools in Los Angeles to talk to students about Oxy and what it is like to be an Armenian on campus, along with the ways ASA contributes to that experience. We go out to several Armenian restaurants in Los Angeles, including Raffi's Place and Royal Vanak, to explore the various ways Armenians make their food, like Persian- Armenian food or Lebanese- Armenian food. We just hosted an Armenian Language Workshop, where we not only introduced Armenian words to others, but explained the cultural and historical significance of our language, emphasizing how we have different dialects due to our diasporic community resulting from the Armenian Genocide.
Besides my efforts with sharing my culture with the smaller Oxy community, I also have individual efforts for my Armenian identity outside of this campus. After writing "That's my flag: the U.S. needs to recognize the Armenian Genocide" in The Occidental, I received many messages from Armenian news networks, family, friends and people I did not know with feedback about how much this meant to my community. We are a culture of helping and supporting each other, as we believe that the success of an individual Armenian is the success of all Armenians. So, after that piece came out, I truly realized how much I had and felt compelled to contribute towards the Armenian Cause. So, I decided my goals for my community have led me to go to law school post-grad and study civil or human rights law to work for issues within my community. I will strive to make real change through advocacy and fighting for justice for my people. From planning on doing research in Armenia this summer to working with other Armenians in Los Angeles and globally for the Armenian Cause, I am motivated by the Armenian blood inside me, the same blood of my ancestors who were massacred in the genocide.
It is so valuable to be able to share my identity that has given me so much love and power with the Oxy community. Establishing this community presence at Oxy has come so far. Now that I have had the chance to share my culture with the Oxy community, I know that I could post about calling local state representatives and asking them to vote YES on Armenian Genocide recognition on Oxy pages and have students come up to me the next day congratulating me as they heard the news of this passing. That's a marker of how much we have accomplished at Oxy- from many not knowing about our past to people recognizing present day news about our past. Thus, this rewarding experience at Oxy has only motivated my continued activism, which I am extremely grateful to have been able to do here.
I am one of the many Armenians living in Los Angeles, the place that holds the highest number of Armenians outside of Armenia. From preschool until 12th grade, I went to an Armenian school, from Sahag Mesrob Armenian Christian School and AGBU Vatche and Tamar Manoukian High School. I was always around Armenians, living in the culture each day. It was not until coming to Oxy that I truly understood why this was so important. When I came to Oxy, things were clearly very different. People would ask me, "What is Armenian?" and each time, that question hurt. I knew I had to do something about the lack of knowledge of our culture at Oxy, so my roommate/best friend (who is also Armenian) and I decided to reactivate and lead the Armenian Students Association (ASA). Now, with 50 members in ASA, the sense of the Oxy community feeling and knowing the presence of Armenians has been my greatest accomplishment.