It's hard to believe that it's been three months since my last blog post, and that I go home in less than two weeks. So much has happened since I left Seattle, I'm not sure where to start. If you've been following my personal travel blog, you know I've traveled all over Italy and all over Europe. I've seen some of the world's best art museums, and I've eaten a ton of great food. I've also struggled with more than one language barrier, been eaten alive by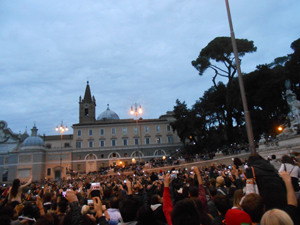 mosquitoes and other buggy little things, felt homesick, and I got my iPhone stolen. Study abroad has been the best experience of my life, but I'd be lying if I said it was all roses.
I thought study abroad would be about Rome (new friends! new city! new restaurants! Vespas!), and of course it has been, but it has also been about so much more than that. Being thrust into a new environment, feeling occasionally (often) uncomfortable, acclimating and then re-acclimating—all of these experiences have been difficult, but ultimately rewarding. It has made me appreciate how lucky I am at Oxy, where I am so comfortable. It taught me a lot about my relationships. It made me realize that I can't live someplace that doesn't have burritos.
It also made me realize how quickly a new place can become home. I traveled out of Rome for a little less than half the weekends I was here, and each time I returned it felt more and more like coming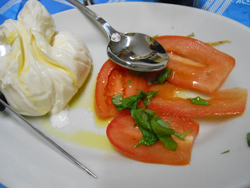 home. On my last trip out of the country, I found myself actually looking forward to being back in my own bed in Rome. I missed my bathroom. I missed my favorite place to get a cappuccino.  Before I even noticed, Rome had become familiar. And even though I am looking forward to being home, Rome has, in a way, become home to me.
If you choose to study abroad (and you absolutely should), my advice is to travel as much as you can and to make the most of every trip. If everybody wants to do a beer brewery tour but you want to see a museum of history, go to that museum anyway! My biggest regret is that I missed out seeing some things that my group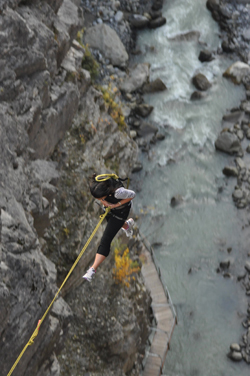 chose not to make time for, so I didn't make time for them either. Try new things, even if they're a little crazy. There's no better time in your life to jump off of a cliff and swing through a canyon. Explore new places as much as you can, and most importantly, bring that adventurous spirit home with you.
For high school seniors—and their parents—reading this right now, take a deep breath! If you submit applications that are as true to you as possible, you will end up at the right school for you. I definitely did. How lucky am I that Oxy (along with a LOT of other people) made my going to Rome possible? I'll be home soon, Oxy!
You can always catch up with my adventures at my blog, here. Twelve days to go and counting!
Love,
Madi