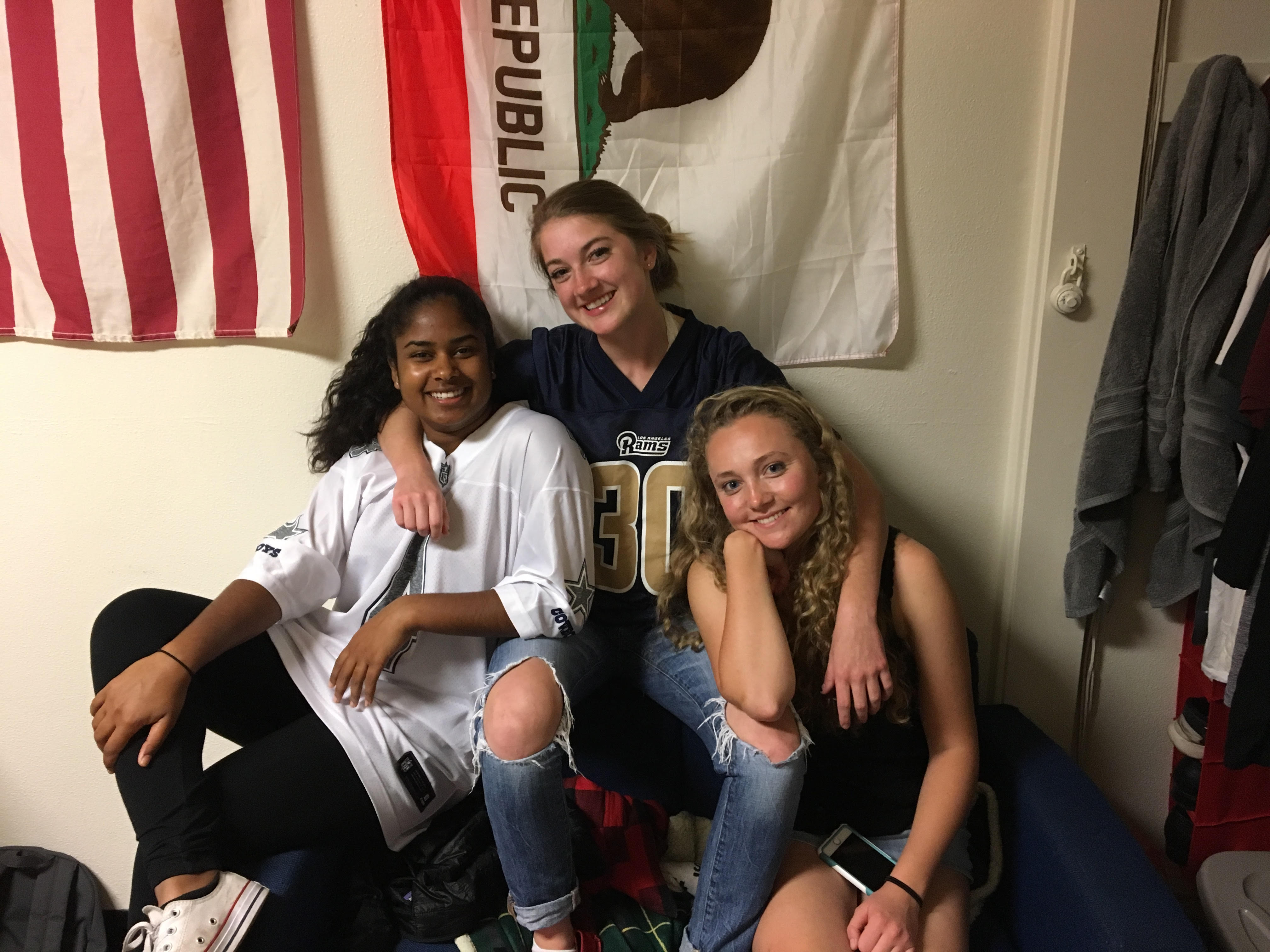 Welcome Class of 2021 to Occidental College.
The upcoming weeks leading up to move in and orientation can be a blur of emotions, but don't worry! I am here to provide some overview of how to make the transition process easier. It is normal to be nervous about this big change in your life and preparing yourself can minimize some of the nerves. 
Moving in – Make sure you know where to go! Once you get your residence hall assignment, you'll be able to look on a campus map to see where to go when you arrive. If you have trouble finding it when you get here, there will be orientation volunteers scattered around campus to help you find your way. There will also be move-in volunteers to help you get your stuff up to your room.  You may be embarrassed by your family as they help you move in-- they might tear up while trying to help make your bed, or they might be way more excited to meet your new roommate than you are. But remember that they love you and this is a big change for them too. Treasure those last moments because you may lay in bed that night missing your family and home. Everyone's family can be embarrassing so appreciate it and be kind to them because this is a major transition for them too. 
Storage – Loft your bed!  Lofting your bed, even a little bit, increases space for storage. When you get to your room, some beds may already be lofted or not. Your residence hall advisor will give you instructions on how to request bed lofting, which usually happens during the first two weeks of school. You are allowed to rearrange the furniture as you like it. For storage, there are several stores right near campus (like Target and Bed, Bath and Beyond) that have lots of storage bins and containers that can be stacked to fit under your bed and provide new places for you to keep your stuff. You can also buy cheap, used storage bins at the Oxy Sustainability Sale-- you can check their Facebook for the hours they'll be open during orientation. For the incoming students who are in triples, storage is fundamental to ensure the three of you fit comfortably in the room and have plenty of space for all three of your personal items. Also, remember to pack light and only bring the basics! Dorm life is different than your life at home. ResEd has a list of what to bring that can show which items are more important than others. 
Meeting new people - One of the most stressful parts of the first couple days can be moving in and meeting the new people who are living with you and around you. Be ready to say your name and where you are from about a hundred times within the first couple weeks of school. Leave your door open for the first few days while you unpack and get comfortable in your dorm-- people will peek their head in to say hi, which is a great way to introduce yourself and meet your hall neighbors. Also, don't be afraid to wander up and down the halls and introducing yourself to people as they are moving in or as you pass them in the hallway. You will be meeting hundreds of people in the next few days, so feel free to ask people to repeat their names. Make sure to remain open minded to all the new people you meet at Occidental. One of the best parts of attending college is the opportunity to interact with people from across the U.S. and the world who have different backgrounds, values, and passions. Embrace these differences as new learning opportunities and prepare to meet some pretty amazing people. 
Orientation - Surviving orientation can be taxing, long, and at times, boring. But pay attention! All the activities and events that happen are purposeful and important, and something all Oxy students have gone through. You will learn about important topics such as consent, drugs, alcohol and other topics about adjusting to college, so make sure you focus and listen; the information you learn in the next few days will help keep you safe and ensure you're equipped for this new part of life. Make sure to attend all the fun events put on by the school during orienation, as they are a great way to meet new people and relish in the mutual awkwardness that comes with transitioning into college and making new friends. The evening orientation events can seem like uncomfortable forced mingling, but embrace it! You are about to meet some unique and wonderful individuals, and probably some lifelong friends, so stay open minded and do your best to meet as many of your awesome new classmates as you can. 
Welcome Class of 2021! See you in all soon! 
p.p1 {margin: 0.0px 0.0px 0.0px 0.0px; font: 12.0px Helvetica; color: #454545} p.p2 {margin: 0.0px 0.0px 0.0px 0.0px; font: 12.0px Helvetica; color: #454545; min-height: 14.0px}