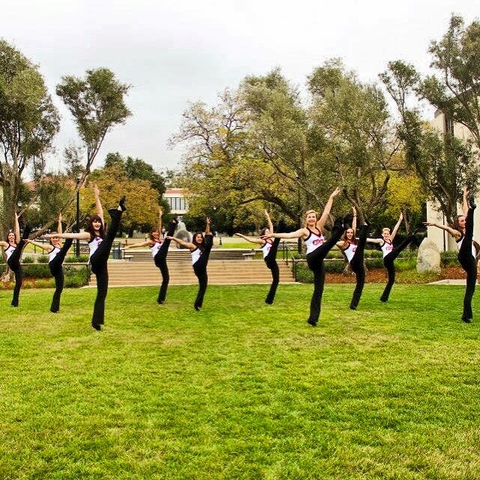 So far everyone who has walked by me in the library has given me a prolonged look of judgement and pity. And to be honest I can't really blame them. I am writing this blog to you at 4:43 a.m, I am sprawled under a table with four empty coffee cups littered around me, and six minutes ago I was literally banging my head against the floor. Yes, I look like a freshly exhumed corpse, but inside I feel totally alive. No matter how stressful my week is academically, I know that the dance community on campus will turn my mood around. Every year, dance becomes a huge part of Oxy culture and my life at Oxy.
And this year is special. I can feel it. The energy in Dance Production is electrifying, the talent in Hyper Xpressions is unreal, and the work ethic of Dance Team is inspiring. PULSE has an exciting line-up of choreographers, Folk and Historical Dance club has more membership than ever before, and the Oxy Cheer Team has never had a greater presence at sports games. Everyone, dancer or not, can feel the power that dance has on campus. I don't know a single person who doesn't comes out to see the Dance Production show or the Hyper showcase, and now you can't go to a single event on campus without there being a performance from at least one dance club. We cheer for each other, pick each other up when we are down, push each other to be the best we can be, and of course, we watch the latest Tricia Miranda videos on YouTube together.
I love it.
In addition to the large presence on campus though, the dance community is open, inviting, and loving. It doesn't matter if you have never set foot in a dance studio before, you can join Dance Production. Looking for something that will push your dancing to the next level? Join Hyper Xpressions. Do you love competing and rehearsing with a fun and loving group of girls? Join Dance Team. Want something a little more low-key? Try PULSE or All-styles club. Whatever you want to do or try (or if you just want to meet an amazing group of people) the dance clubs and organizations are here for you.
So what was the point of writing this blog? Was it just one giant plug for the dance clubs on campus? (probably) But what I hope you take away from this is that dance is a big part of Oxy's campus, and it doesn't matter whether or not you have danced before, you will find that the dance community will take you in and accept you.
So yeah, I may have two essays to finish in the next three hours, but no amount of stress or pressure can overcome my love for dance, and my love for the beautiful dancers on campus!
KEEP WERKING