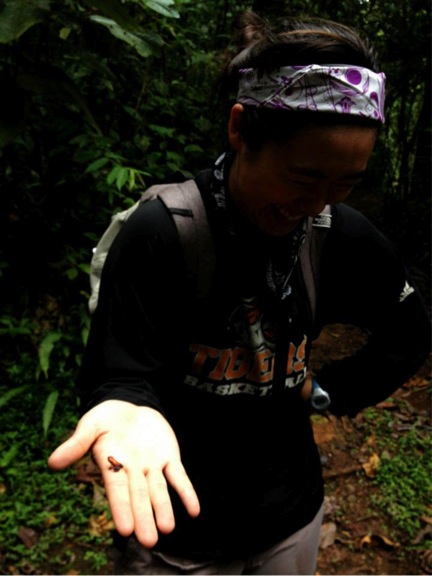 *Disclaimer: Friday, February 14 was an especially busy day for me!  It was also a very unusual day—I didn't have class, but I had a plethora of campus activities I had to attend.  Most days are NOT like this, but today was the perfect storm of a day to showcase all of the activities happen on our campus!
First off, to those of you who aren't familiar with me (meaning most of you because this is on the interspace and none of my non- virtual friends read blog posts), I'm Michelle!  I'm a second semester senior biology major and the Transfer Senior Fellow.  The following is a play- by- play of my very busy day!
8:00 Wake up!  My roommate (Roomie 1) and I were up late after our basketball game, watching "Rise of the Guardians" (to those skeptics, what are you waiting for?  It was great. Not life changing, but pretty good) as I edited a document for admissions.
8:00- 9:00 Showered, moved around the room quietly so I wouldn't wake up Roomies 1, 2, and 3.
9:00- 9:05 Went to the Welcome for Transfer Open House!   
9:05- 9:30 Fought with the computers at the library to get my stuff printed.  Lost.  Emailed my papers to a friend who was in the library to print my papers.
9:40- 9:45 Met the panelists of the Transfer Student Panel to distribute nametags.
9:45- 10:30 Moderated the Transfer Student Panel.
10:30- 10:45 Debriefed with Mari, the Transfer Admissions Officer.
10:45- 11:00 Rushed home to find my Peer Health Exchange Shirt (it was draped over my chair to prevent wrinkles and to make sure I wouldn't forget it… My roommate had to point it out to me).  Also discovered that Valentine's Fairy #1 (Roomie 2) left me Fanta Toronja, THE BEST SODA OF ALL TIME.
11:00- 11:30 Taxi ride to Central City High School (which was right next to a Dr. Sammy Lee Middle School, an Oxy grad who was the first Asian- American gold- Olympian… Oxy represent!  Also so serendipitous for this blog post).
11:30- 12:40 Taught a 9th grade class of 30 about Abusive Relationships.  I finished my workshop early, so I fielded questions about my college experience for the last 10 minutes. My class told me the best compliment I've ever received "Miss, you were actually interesting!" as I walked out the door.
12:40- 12:50 Waited outside Central City High School for my taxi to arrive.
12:50- 1:15 Taxi Ride back to school.
1:15- 1:25 Went home to grab my laptop and headed to library.
1:30- 2:00 Met with student researchers and distributed some work that needed to be done.
2:00- 2:15 Saw my roommate in the quad!  She abandoned me to talk Greek life with her sorority sisters (today is Bid day!).
2:15- 2:17 Contemplated with some of my housemates if the skywriting "I
2:17- 2:30 Feasted on chicken tenders and sweet potatoes fries with Roomie 2. First real meal of the day!
2:30- 2:50 Wrote the first half of this blog post.
2:50- 2:53 Saw Franklin in the marketplace. Chatted.  This is an exaggeration… We spoke to him for approximately 60 seconds because he doesn't love us as much as we love him.
2:51- 2:55 Typed that sentence out.
2:55- 2:59 Sprinted to Emmons for a 3:00 appointment.
2:59- 3:05 Filled out paperwork for TB test, the last hurdle before I can teach my 5th grader from my Community Literacy class legally.
3:05- 3:07 TB test.  10/10 Michelles agree that they would get their TB test again at Emmons—they were quick and I didn't feel the needle at all.  I was even watching the needle too, anticipating the pinch!
3:07- 3:15 Leisurely walk to Admissions.
3:15- 3:20 Wrote more blog post.
3:20- 3:28 Called the mother.  Note to students—call your family/ friends once in a while, probably more than once a month.  It's always good to hear how they are doing and it's always good to talk through any crazy decisions/ life decisions you may be making.  With that in mind, make sure your phone is charged, so you can talk to them for more than a few minutes.
3:28- 3:45 Decided on the pictures for blog post.
3:45- 3:59 Checked Hulu for potential new shows to watch.
3:59- 4:38 Picked up and interviewed potential new student.
4:38- 5:00 Spoke to prospective student and her family with Margot. Laughter. Sweating jokes.
5:00- 5:15 Rushed home and changed for therapy.  While at home, discovered Valentine's Fairy #2 (Roomie 1) left me STRAWBERRY ICE CREAM, my most favorite of all favorite ice creams.
5:15- 6:45 Physical therapy in the Training Room for my sprained MCL and fractured bone… this is my second full day out of my thigh- to- ankle brace!
6:45- 7:00 Speed walk to Thorne to meet Roomie 3, who is saving my seat for Vagina Monologues.
7:00- 9:27 Vagina Monologues—I laughed.  I cried.  The womyn who performed tonight were phenomenal!  All of their hard work definitely paid off.  Even better, by the beginning of the night, we had raised $5000+ for Peace Over Violence and Planned Parenthood!
9:27- 9:45 Awkwardly waited around the stage to congratulate those who performed and before I headed home.
9:45- 10:30 Made chicken, potatoes, and broccoli for dinner at home. 
10:30- 11:30 Roomie 1 and 3 ate extra broccoli and potatoes with me—Roomie 3 is vegan so I was sure to make the vegetables vegan friendly.  While eating, chatted about life and expectations, etc.
11:30- 11:47 Blog post writing!!
11:47- bedtime Watched "Wreck it Ralph" with Roomie 1 until we fell asleep.
As delightful as today was, hopefully a day close in my future will look more like this:
9:00 Wake up after a long restful night of reading a book.
9:00- 10:00 Make and eat brunch by myself.
10:00- 5:00 Watch TV (Netflix, Hulu, SolarMoive, Coke and Popcorn)
5:00- 5:05 Order Dominos for dinner.
5:05- 6:00 Bake/ Cook snacks.
6:00- 6:30 Eat Dominos.
6:30- 8:30 Read my book.
8:30 Bedtime.
XOXO- Meesh