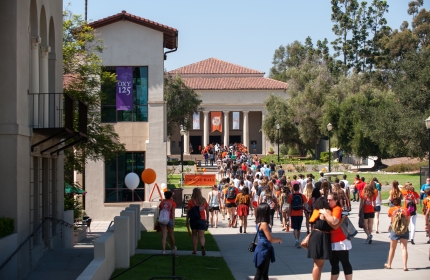 Hey what's up y'all! So spring break is coming up, which is just…thank god. I know we've only been back for about a month, but with everything that has been happening this semester, it feels like we've been here so much longer! Anyways, with spring break approaching, it means that midterm season is officially upon us. Days can get pretty hectic during this time, so I am going to take you on a journey with me, and show you how I stay sane.
8:30 AM: Alarm goes off
8:45 AM: Attempt to get out of bed (aka roll off the bed)
9:00 AM: Head to the Marketplace to get a quick bite to eat before class (this is very generous because I usually leave like 5 minutes before class starts and have to settle for grabbing a banana at the Cooler)
9:35 AM: Geology 105 (it's not just studying rocks I promise. I mean it kinda is but it's not. Ugh just take it and see!)
10:40 AM: Cognitive Science (brainy stuff. It's interesting)
11:45 AM: CSP (I know, another class in a row. I was ambitious this semester…still not really sure how I feel about having three classes back-to-back-to-back yet!)
12:40 PM: FOOOOOOOD (actually waiting in line at the Marketplace for 10-20 minutes then FOOOOOOOOOD. And if you want stir fry it's probably more like 40 FYI)
1:30 – 3:30 PM: Studying (like the good student I am! Hi mom)
3:45 – 4:45ish PM: Power nap (jk Netflix but same thing)
5:00 – 7:00 PM: Go coach some volleyball to eighth graders (nice little study break but dang those girls have a lot of energy)
7:30 – 8:00 PM: More foooooood (at the Cooler cause the Marketplace closes at 7:30)
8:15 PM – 12:00 AM: Midterms tho (I wish I could study for almost four hours straight but let's be honest here, I'm probably on Facebook 30% of the time)
12:30 AM: Goodnight.
Now don't be misguided – this is just one of my days here at Oxy! Days when I don't have as many classes, or don't coach volleyball look a little different, but you pretty much get the picture! On weekends, I have Dance Production for about an hour and a half in the mornings, and I like to enjoy the sun and do fun things off campus when I can! Of course, this is just what my weekdays look like! Everyone at Oxy does so many different things, so nobody has the same schedule. I hope everyone is enjoying the nice California weather, and if you're from a cold or rainy state…uhhh the cold doesn't bother you anyway? Thanks for reading!