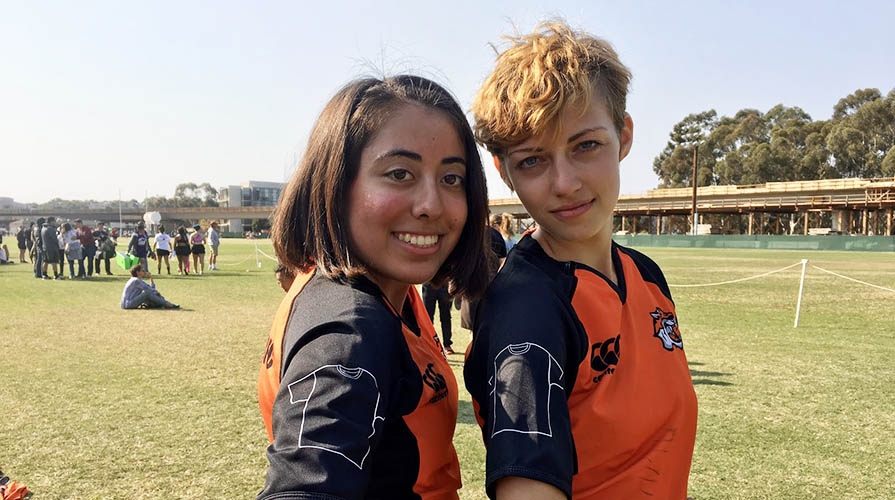 If you asked me last August what I'd be doing over spring break, I would've probably said something typical and vague, along the lines of going home and hanging out with old friends. I would have never predicted how I'd actually spend my spring break—in Dublin, Ireland with the womxn's rugby team.
But before I get into that, allow me to backtrack a little.
As a first year I spent a lot of the first semester growing accustomed to college life. One of the things that really helped me adjust was joining clubs and activities that helped me feel as though I truly belonged as part of the Oxy community. And through joining the rugby team, I've been lucky enough to make some of my most trusted and best friends at Oxy. It's the little things, like warmly greeting each other in passing, or sitting with my teammates at meal times so I don't have to sit by myself, that have made me feel not so alone during my first year in college.
Let me be honest with you: I joined the rugby team on a complete whim. While I'd played team sports before, I had never played contact. Coming to Oxy, the idea of club or intramural sports was appealing to me, but I pictured myself playing softball or basketball. Sports that I was familiar and comfortable with. Playing rugby never crossed my mind, until an enthusiastic sophomore (Kitty Lu '21), caught the attention of my friends and I at the LGBTQ+ mixer.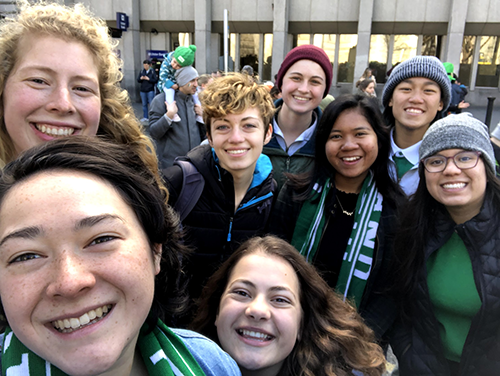 Kitty did a pretty good job convincing my friends to give rugby a try, but I was still on the fence. The primary reason I went to my first practice was that I knew that my new friends were also going. Also, I was a bit curious to see how exactly rugby worked. Suffice to say that after that first practice, I was pretty much hooked. Everyone on the team was incredibly welcoming and friendly. I was also excited at the prospect of making new friends, and having teammates for the first time since I stopped playing softball at 16. The rest, as you can guess, is history.
So, how'd I end up in Ireland over spring break with the team?
Last semester, the team's executive board (e-board) began throwing around ideas of organizing a tournament with some teams abroad. The Six Nations Rugby tournament was taking place in Dublin, Ireland over the dates of our spring break so the location was decided; we were taking the team to Ireland. When they introduced this idea of traveling to Dublin, Ireland for spring break, I jumped at the opportunity to go. I had never gone to Europe before, and being able to experience it with dear friends was a dream come true for me. In order to fundraise enough and organize the trip successfully, it was a whole team effort that required immense dedication and for that I am eternally grateful to all. 
So on March 8, one day before my 19th birthday, we left for LAX.
What ensued was a (far too) long 10-hour flight to Dublin-- but it was totally worth it.
We spent 10 days in Ireland, from March 9th to the 18th. During our stay, we played some rugby, experienced St. Patrick's Day, and sightsaw. We kept very busy in Ireland, so I'm going to highlight a few of my favorite parts of the trip.
Playing Trinity College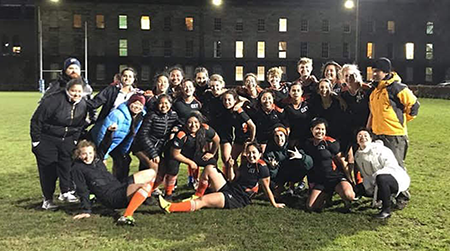 On the evening of Monday the 11th, my teammates and I walked over to Trinity College to play some rugby. We played a series of round-robin games, in which we played teams from Trinity College as well as Washington State University. While the weather was rainy, and the temperature hovered around 45 degrees °F, our entire team powered through-- this was real rugby weather.
We all had a great deal of fun, and afterwards had dinner above the Trinity College rugby clubhouse. One of my favorite parts of the night was seeing our team captains receive a customary plaque from the Trinity team. Overall, it was an amazing experience to play against and meet people from an entirely different county.
The Cliffs of Moher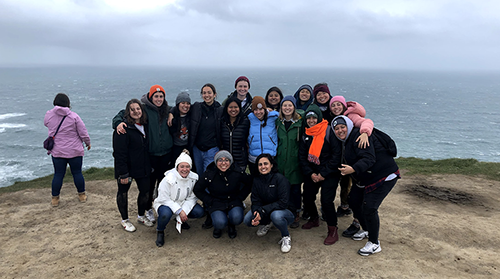 One of the reasons I enjoyed seeing the Cliffs of Moher is because they appear in one of my favorite TV shows, Game of Thrones!
We took a relatively short bus ride (4 hour) across Ireland to get to the cliffs. The weather was chilly and windy, but that didn't stop us from having a good time.
This was one of the more memorable days of the trip because the cliffs were incredibly beautiful and breathtaking to see. Also, I don't think I'll ever forget the tour guide casually mentioning that everyone who has ever fallen off from the cliffs has never survived.
Howth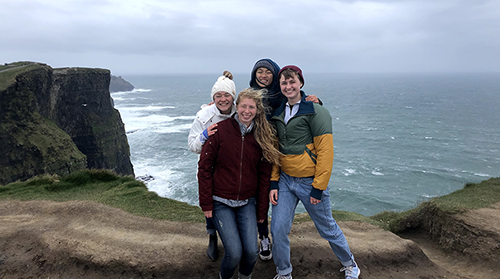 Howth is a small Irish fishing village east of central Dublin. Upon arriving, we ate some local and fresh Irish cuisine in a lovely restaurant. I had bangers and mash, or more commonly understood as sausage and mashed potatoes. It was delicious, and I miss the food everyday.
Afterwards we spent the entirety of the day hiking the hills and cliffs along the coast.
I particularly enjoyed climbing up the sides of the hills to get the best view of the ocean.
We walked through several suburban neighborhoods, and took a scenic route back to the train stop. I was most surprised with how picturesque all of Howth was. The houses had a rustic look to them that really suited the general aesthetic of the area.
Bonding with my teammates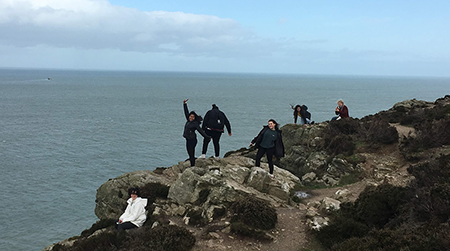 This was, by far, my favorite part of the trip. We stayed at Isaac's hostel, with several bunk beds per room, so we were all pretty close one another. Getting to interact with my teammates outside of practice and playing games allowed me to really get to know them as individuals. St. Patrick's Day would not have been nearly as fun or enjoyable without the presence of my friends.
At the end of the day, what I'm going to cherish most about my incredible trip to Ireland will be the precious memories made with my team. All of the laughs, the smiles, and the love shared.
Here's to many more.