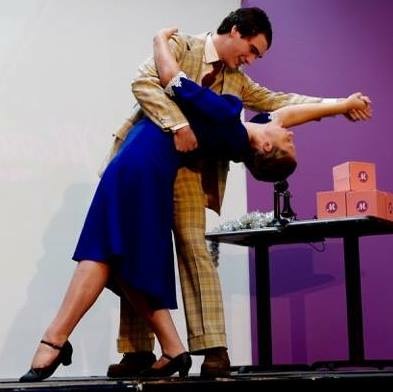 Let's take a trip 2,660 miles away from our lovely Californian Oasis to the streets of Baltimore. Nestled in northern Baltimore's historic Roland Park neighborhood is Friends School of Baltimore, a small, Quaker, private school where I logged fourteen years of my life. At the end of the summer in 2012 my choir director (and good friend), Michael McVey, asked me if I would come back the following year and help him direct the Summer Stock Musical that I have been involved in many times.  For the past three summers I have been returning to Baltimore to direct and choreograph musicals with high school kids alongside the music direction of Michael McVey.
This summer we put on "She Loves Me" which was a musical that came out in 1963, written by the same people that wrote "Fiddler on the Roof". We rehearsed Monday through Friday for three hours a night for four weeks which is significantly less than at Oxy so things are much more rushed in Summer Stock at Friends. We had just over 60 hours to build the stage and the set and teach all the kids their songs, blocking, and dances. This required meticulous planning which is one of the many skills I have picked up from my time at Occidental that has helped me grow as a person and definitely as a director.
During my time in the
Oxy Theatre Department
, I have learned a lot about performing that has helped me to identify acting behaviors in myself that need fixing and tweaking. I have been able to use these skills to help critique and aid these young actors that have had the same problems that I had when I was their age or even older. Taking upper level theater classes at Oxy has helped me to be a better judge of the theatrical arts and be a better director. It has given me the ability to help these young actors in a way that I couldn't while I was directing in high school. I was able to identify things that were holding back some of these students and to help to begin to set them free.
The stress of putting together a musical is immense and often during the process I find myself thinking "Why?! Why did I agree to do this again!?!" But once the show is over and I see how far all the kids have come, all the work they have put into it, and take the time to realize the professionalism they all had to put on a full-length musical in four weeks, I remember why I love it. 
I have been very fortunate to have a job that keeps me active theatrically each summer where I can use what I learn during the year and bring knew things back at the end of each summer. I am most excited this year because I am going to be directing for my Senior Comprehensive Project this fall. I am excited to see how Summer Stock will help me direct college students and how I can continue to learn from my directing and from the kids and young adults that I direct.
Declan Meagher is a rising senior Theater Major from Baltimore, Maryland. He is heavily involved in the theater departments as well as the Glee Club. He also has been a choreographer for the past two years in Dance Production and this year is the president of Oxy's improv comedy troupe: Fantastiprov.