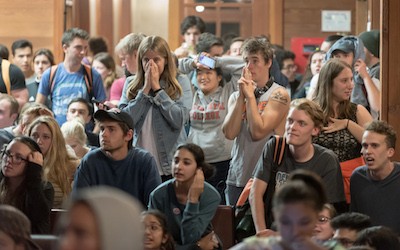 Growing up in an authoritarian country, this was the first time I have witnessed a democratic election.
 The election result was overwhelming and depressing to a lot of members of the Oxy community. I heard people cursing loudly outside my window after the result came out. I saw nothing but discontent and fear about the new president on Facebook till the very next day. I feel the depression on campus from the silence in class. While on the other side of the country, almost half of Americans were probably celebrating the win of Donald Trump.
 What strikes me the most is not the election result, but the realization that what I have experienced at Oxy is not America. I have asked a lot of my friends at Oxy whether they support Donald Trump, and none of them said yes. Their most commonly used labels for him include racist, sexist, and "a joke". Then I asked why would anyone vote for him? The most frequent answer I got was that because those people do not have much education. I did not see what was wrong with this statement until the racist, sexist, misogynist was indeed elected to be the president. As a college student, I too have assumed that because I received higher education, my viewpoint is superior than those who did not go to college. I did not bother to recognize or argue with those who did not receive as much education because I thought we were fundamentally different. Immersing myself in this liberal bubble where political correctness is held by so many people, I assumed it was the truth. However, this election made me realize that outside of this bubble, there are so many people in this country who hold a different view. I, or any of my peers in college, are not superior to those who disagree with us.
The day after the election, professors in all my classes addressed the election result. One of the professors even spent the whole class letting us discuss our thoughts about the result. The international program office sent out a long email in the early morning assuring international students that the student visa status would not be threatened and they were there for us if we needed to talk. This kind of support is one of the things I appreciate the most at Oxy. We are a community, and together, we will continue.