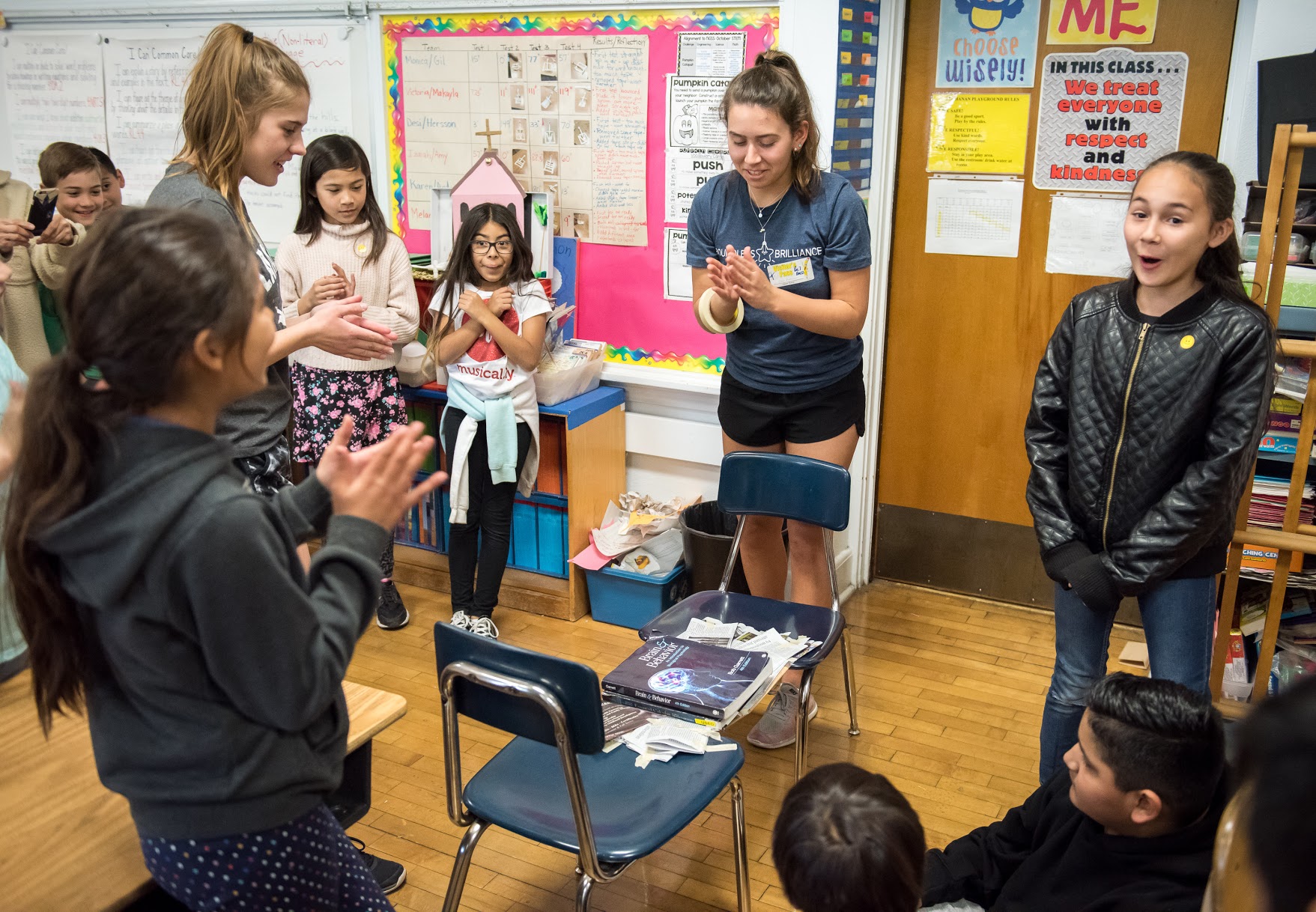 Every kid should know that they're brilliant from get-go, yet this narrative is increasingly lacking in spaces for girls in STEM, or even for young girls who may later develop an interest in STEM, but are not encouraged to do so, deeming themselves "not smart enough."
This is where Boundless Brilliance comes in.
Boundless Brilliance (BB) is a non-profit that started at Occidental College two years ago to combat this internalized sexism and replace it with empowerment. We do this by giving presentations to elementary schools around Eagle Rock, and this has recently expanded to locations all around Southern California! These presentations encourage girls and the entire classroom to pursue their dreams, whether they are in STEM or not, but of course our classes have a specific emphasis on science. Because girls as young as four or five years old begin to internalize that they are not as smart as boys, or that they shouldn't go into the "smarter" fields such as math or science, BB's goal is to counteract these microaggressions from the inside out, before they sink in.
Aside from the ultimate goal of Boundless Brilliance, members get to meet a lot of people in STEM, fostering the best sense of community at and around Oxy. It's motivating to meet and relate to so many different women and people about the same issues, and know that you're not alone in the struggles faced in STEM as a woman. Sometimes it can be disheartening to be surrounded by people who resemble those that have dominated the STEM field for so long, so being around women and allies is empowering.
Aside from feeling empowered,  having such an impact on young girls is liberating. When I was younger, I wish someone had been here to tell me  that I was capable and that my interests in chemistry were not unrealistic. It's really valuable to help these kids and to hear from them; they have such a refreshing perspective on the world. They continuously say the most random yet funny and cool things - there's just no filter!
When the club was first forming and I heard about it, I immediately leapt to be as involved as possible. I really look up to Audrey [Shawley '18], Nina [Doeff '18] and Hannah [Hayes '18] who started the organization, and never imagined taking on the responsibility that they did...now I'm the president!
BB's executive board (or "e-board") handles a good mix of delegation, overseeing projects, planning events, giving interviews, spreading the word, and collaboration within the team and with other clubs. We get to work with a lot of faculty, and without realizing, these interactions form connections with professors and the entire STEM community. Aside from giving presentations to young girls, bridging the gap between professors, organizing a career fair in partnership with other clubs on campus, and collaboration with Oxy's Neighborhood Partnership Program to reach out to older kids make up the rest of the club's activities.
My favorite event has to be BB's Annual Tea Party. It was the first event I planned on my own as a sophomore. The event was part of making connections with the STEM professors, and it was such a success! I feel a lot of students come in to college believing that all professors are intimidating, and while some are, so many aren't and this event helped to combat that. As for my favorite moment so far, even though I became the social media rep when I first joined, I remember experiencing a presentation and receiving thank you cards from the kids. They were so genuine and nothing made me happier.
On this particular trip we were even interviewed by CBS for the local news! Simply being a member of Boundless Brilliance opens you up to a world of opportunities and leadership roles. Upon joining Boundless Brilliance I was exposed to a whole new community of people - one that I cannot imagine my Oxy experience without.