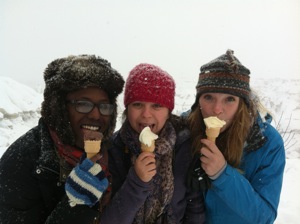 Merhaba Everyone!
I recently went on a class trip to Turkey. By Turkey, I mean all of it, not just Istanbul. We went to Istanbul, Ankara, Cappadocia, Nevsehire, Göreme, Avanos, Pamukkale, Aphrodisias, Konya, Selcuk, Kusadasi, Izmir, Ephesus, Cankkale, and ended with a free day in Istanbul.  I never thought I'd have a chance to do all of that and be well informed too!
Istanbul was a dream - Hagia Sophia, Blue Mosque, Hippodrome, cruise of the Bosphorus, Chora Church (insane mosaics) FOODFOODFOOD, and of course the Grand Bazaar was a frenzy of sales and agendas. I gained a solid 5 pounds of baklava. I saw snow fall for the first time in Hattusa on top of 4th century bce foundations in a priest's room.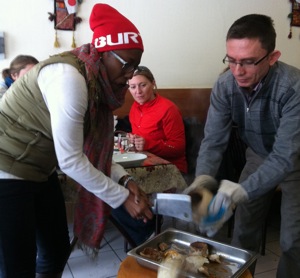 I went to a rug making expo and almost bought a $1000 beautiful Turkish rug and then remembered I'm a student in debt. We also went to a pottery exhibit in Avanos (once upon a time, the men needed to know how to make pottery to be allowed to marry). In Göreme, we saw these really cool monestaries that are built ino the mountain, literally. And since it was snowing everything was magical.  I had the best lunch in this town I don't remember how to spell, but the stew came in a clay pot and the man gave me a massive knife to cut the top off the pot (they bake the pot in the oven).
Leaving Cappadocia we went to Pamukkale and swam in thermal pools, walked through a necropolis (city of death) to enter a hierapolis (holy city) and climbed in and out of tombs.  We could see the tracks of where Roman wagons rolled. Cool? Yes.  Aphrodisias which was just incredible.  Classmates and I had a foot race in the stadium where lions and gladiators fought.  We traveled through Konya to see Rumi's Mevlana Order museum and went to Ephesus after. My favorite part was seeing the inside a massive (well-endowed library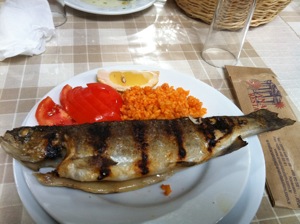 size) excavation tent to see what archeologists where doing. Great conservation of mosaics, marble walls, and frescos. 
On our way back to Istanbul, we visited the naval museum that commemorates the lives of Turkish, Australian, and British troops that fought brutally in WW1.    
We ended the trip with a free day Istanbul and it was one of the best days of my life.  We split into groups of 2-3 and wandered all around.  The sun came out, we shopped, ate, took long apple tea breaks, and engaged with the city in a totally free way.