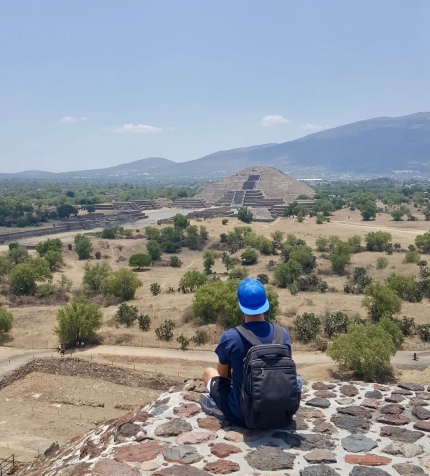 While the rest of my class was coming to terms with what it meant to enter the "real world" and assume post-graduate status, I had the perfect distraction in place.
Near the end of what would be my final semester as an undergraduate student at Occidental, I was informed that I had been granted the Emma Maes Travel Scholarship after having both submitted a proposal and participated in an interview. The Emma Maes Travel Scholarship, offered to me through the Department of Spanish & French Studies, funds select students to go abroad and immerse themselves in the language and culture of a new country with the goal of imbuing said students with a sense of appreciation and respect for what is considered foreign to them. I applied to go to Mexico, and on June 4th, 2018, I boarded my flight at Los Angeles International Airport to that end.
Though I was only in Mexico for a week, I managed to visit and explore two major cities-- Mexico City and Cancun. In Mexico City, I went to Chapultepec Castle, Teotihuacan, the National Anthropology Museum, and the Frida Kahlo Museum. Chapultepec Castle, situated above a Central Park-esque green space that was once a sacred Aztec site, is where Maximilian I of the Habsburg family resided as monarch of the Second Mexican Empire alongside his wife, Charlotte. This same castle would later be occupied by Porfirio Diaz during his presidency. Despite the castle's unassuming exterior, the opulence and painstaking attention to detail that inspired its construction became apparent upon entry-- as two examples, intricate stained glass adorned hallways and splendid Baroque-style designs decorated the ceilings.
Teotihuacan is an archeological site at which there are Aztec ruins, namely the Pyramid of the Sun and the Pyramid of the Moon. As I scaled both pyramids alongside a sea of other tourists, I found myself shocked not only at the sheer beauty of the structures, but also at the realization that they were not considered an official wonder of the world. At the National Anthropology Museum, the pre-Columbian story continued to unfold-- there, for example, I encountered a sacrificial stone that was thought to be have been used by the Aztecs in their time-honored tradition of sacrifice as well as what is regarded as the most famous piece of Aztec sculpture, the Sun Stone. Moving on to the Frida Kahlo Museum, which is housed in the former residence of Frida Kahlo and Diego Rivera, I came across original works of art, both completed and unfinished, by none other than Frida herself. As the home that once belonged to Frida and Diego was quite large, there was plenty to see, and it was interesting to find out that there was minimal staging and curation done-- in other words, the house was essentially being presented as it was left. Also fascinating was the temporal exhibition that was open at the time of my stay, which showcased Frida Kahlo's fashion.
Three days after my arrival in Mexico City, I flew to Cancun. There, I went to the Cancun Underwater Museum, Tulum, and Xel-ha. The Cancun Underwater Museum, established in 2009, is a subaquatic museum that is accessible in a variety of ways, including via a boat with a glass bottom. I chose to snorkel to and from installations, among which was a sunken Volkswagen Beetle. Tulum is an archaeological site at which there are Mayan ruins. Unlike the Aztec ruin site at Teotihuacan, Tulum sits atop a cliff that overlooks the ocean, in an environment that is unmistakably tropical. While I found the Mayan ruins a bit underwhelming compared to the Aztec ruins and all their mystique, I much preferred to be surrounded by the lush flora and fauna of the former. Not far from Tulum is Xel-ha, a "natural" water park and notable ecotourism development. Xel-ha was definitely the highlight of Cancun for me-- though I was unable to take advantage of everything the park had to offer, visitors have so much at their fingertips, including waterslides, snorkeling, scuba diving, ziplining, floating tubes, restaurants, and swimming with dolphins.
Four days after arriving in Cancun, I headed home to Los Angeles, satisfied with how much I was able to pack in to my week because of the grant Oxy gave me and grateful to have been blessed with Mexican blood.