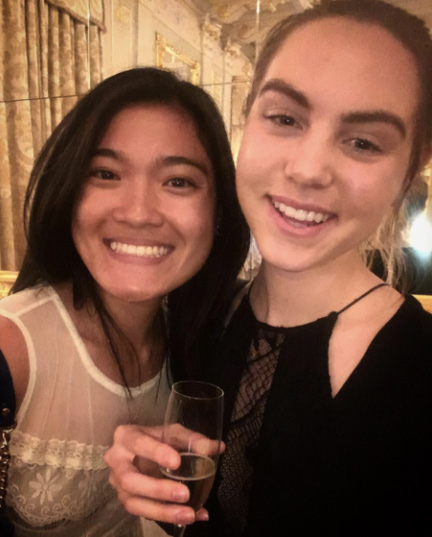 Instead of studying for exams and writing papers during finals week, I started off the first week of May and my summer in Venice, Italy.
This would be my first time traveling outside of the United States. 
While in Venice for three weeks, I conducted independent research at the 57th La Biennale, the most prestigious international art exhibition, often referred to as "the Olympics of Art." My independent research project, "Decolonization through Global Visibility of Indigenous Artistic Production," evaluated the presentation of Indigenous material, focusing on how stories are told. It specifically focused on the exhibition Emissaries, featuring Maori artist Lisa Reihana who represented New Zealand. Reihana re-imagines the French scenic wallpaper Les Sauvages De La Mer Pacifique, 1804-1805, also known as "Captain Cook's Voyages." In a 30-minute video panorama, she re-tells the voyages of Captain Cook from a Maori perspective. In her work, authority is given to the Indigenous peoples, which I view as an act of decolonization. 
Not only did I conduct independent research, but I also accompanied the creators and curators of Wah.shka, an Indigenous exhibition curated by Mary Bordeaux (Sicangu Lakota) and Associate Professor of Art and Art History Nancy Marie Mithlo (Chiricahua Apache) to assist with the installation of Wah.shka on Certosa Island. 
In my free time, I explored the city, enjoying the architecture and eating a lot of delicious food. One of the most iconic places to visit in the city is San Marco. One night I was in the courtyard listening to the orchestra play the theme from Titanic because the place was flooding from the high tide. My most favorite adventure was going to Burano, an island in Venice. I walked around there for four hours just staring in awe at all the different colors. 
This trip was a great way to start off my summer and I cannot wait to travel more in the future!