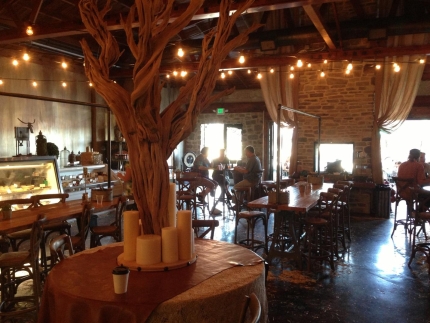 Hey everyone!
Hope that spring break has started off well and that you're enjoying the free week! It's been a few weeks into school already and I can't believe that there is only about two months left before graduation; it doesn't feel real. For a quick recap of last semester, I passed my Biology comps so this semester I'm breathing a little easier and am just finishing off my requirements for my major and minor. Now, the task for this semester is to look for jobs. I admit, I've been pretty stressed about trying to find a job for the year that I'll take off before applying to grad school. However, that means that I've also been trying to find new places to do work at besides the library at school. Sometimes, the change in scenery can make you feel new again and give you a boost of energy to plow through your homework or continue on with your search of jobs. Here are some places that my friends and I have been to. Feel free to try them out if you ever need a change of atmosphere and find yourself unfocused in the library. (:
Bon Vivant
Located in Atwater Village, Bon Vivant (pictured above) is a café that serves brunch and dinner and is open until 10 p.m. for those that like to stay up a bit late to finish up some work. The restaurant itself is an open space and it's really nice to lounge around, plus it's super cozy. Also, their food is awesome and their drinks are too. If you like chai, try the pirate chai – it has matcha in it and can be a little spicy too.
The Coffee Table
The Coffee Table is located on Colorado Blvd. in Eagle Rock and though I've been eating here for years, it's only been recently that I've gone outside to the patio. It's nice to study out there, and Coffee Table is a big restaurant so there is also plenty of room to do work inside and grab a bite to eat as well!
Elsa's Bakery
Elsa's Bakery is located on York Blvd. in Highland Park and is within walking distance from Oxy. I haven't been there before, but my friend recently recommended this place to me and has told me that it's a cozy place to study- plus they have good pastries and drinks. 
Stories Books and Café
Stories Books and Café is a ways from school and is located in Echo Park. However, if you have some time, a lot of work to do, and want to make an adventure out of your day to explore a new area, then Stories Books and Café might be the place for you! It's a neat place that has a bookstore in a front and a café in the back. I sometimes find that finding an outlet for my charger could be a problem when I'm studying at a café, but at Stories Books and Cafe it's no problem, which is a plus!