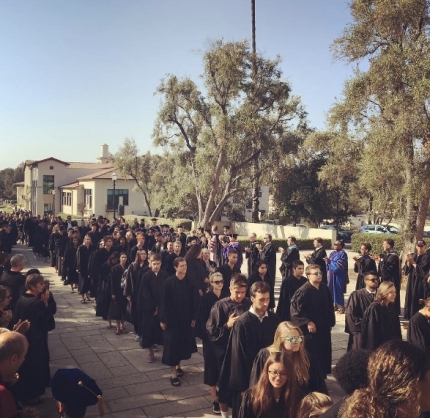 As a first year, these last four weeks of school have been a whirlwind of transition. There has been so much to learn in the last month, some I have personally learned and some I have learned from watching others fail miserably. As first years, we were all blessed with the task to attempt to assimilate to a new culture. It has been great to watch my peers rise to the challenge of trying to appear as if we have any knowledge and understanding of what is going on. I have no doubt the lessons will continue to be learned over the next four years attending this wonderful college, but already the class of 2020 has learned a bountiful amount.
        Meal time. Everyone does it, and it would seem at Oxy that almost everyone goes at the same time. The most crucial thing I've learned so far is how to avoid the lunchtime crowds. If you're anything like me and despise standing in any sort of line, or feel physical pain at having to watch others walk around the market place with plates full of food, planning your day around the less crowded marketplace times is a fundamental key to making your eating experience supreme. Do NOT try to eat at 1pm. This is when most first years exit their CSP class, ravenous and starving for substance to refuel after all that discussion-based-learning.  You will have a bad time and you will have to wait in line for pretty much any food except for cereal (though the cereal selection is fabulous).
Another thing to know about the marketplace is the staff are some of the friendliest, and funniest, people on campus. If you need to talk to someone but Emmons is booked out, head on down to the marketplace. The staff will smile and listen with open ears to all your various problems you can't yet tell your friends. Kathy will make you a sandwich with love, and Stephan is always ready to talk about the latest football games
        Another thing I've learned is there are a variety of things you can do wrong in the bathroom. I also realized that a lot of people don't have common sense when it comes to bathroom activities. To summarize a few key lessons and tips – do not leave your hair in the drains, flush the toilet, don't forget your shower items all over the place, and generally clean up after yourself. And this may surprise some people, but the fellow bathers don't actually want to listen to your music.
        Any athlete on campus has been told at some point in their life that "early is on time and on time is late". Here at Oxy that phrase still holds true but now in the realm of the classroom. In some classes if you aren't at least five minutes' early class will start without you and you'll stride into the room while the teacher is in the middle of lecturing and it will be embarrassing. I've learned that if you live on upper campus make sure to leave around 30 minutes before class starts to make sure you get there on time. And If you get a late registration time fear not, there are plenty of miscellaneous classes you can sign up for that will have nothing to do with your major or any career goals, but who knows, maybe you will find a new passion.
        So far these last four weeks have been packed with life lessons, awkward moments, and classes. I feel both nerves and excitement for what else my experience at Occidental will teach me. Just remember that it is okay to embarrass yourself, it is okay to fail, but the important thing is that you learn from those mistakes and grow from them.