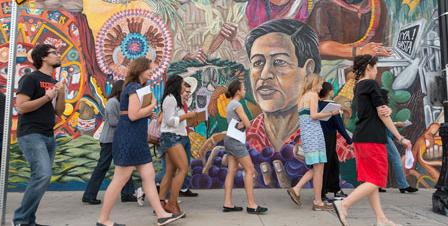 Every month or so I'll have a friend or family member who wants to visit me in LA, just to see what my life at Oxy is like. Over the summer I had old friends from high school and study abroad cycling through sleeping on my couch on a weekly basis. I love having visitors because I love Oxy and I love Eagle Rock, and nothing is more exciting for me than showing the people I care about all the fun spots to hang out and eat. Though I can't personally give an "Eagle Rock Tour" to prospective students, I think it's an important part of the visiting experience to check out the surrounding neighborhood, simply because it really does shape student life at Oxy. That all being said, here's a short list of things to do for visitors who want to check out Eagle Rock after they're done checking out the campus.
My first recommendation is to take a walking tour and see the sights! If you want to experience the Angelino vibe and do some people watching, York Blvd is ideal; it's the quintessential Los Angeles strip that combines the old and the new. Family-owned markets and taco trucks are interspersed between up-and-coming bars, restaurants, independent retailers, galleries… The list goes on.
If you're hungry, grab lunch at Señor Fish located front and center on Eagle Rock Blvd. They have possibly my favorite Mexican food in all of Los Angeles, let alone Eagle Rock (and Mexican is a staple here in L.A.). I always get the nachos (literally, always… they're so good I just never bothered to order anything else) but my friends also love their burritos, quesadillas, fresh fish tacos, and salads. If you're not sold already, they also have a kickin' salsa bar and a beautiful, naturally shaded dining patio.
If you have a little more time on your hands, say an entire afternoon, one of my favorite places to go and unwind is the Huntington Library in Pasadena. It costs $25 to get in, but the twelve different botanical gardens, historic library, and various art collections are so worth it. There are endless things to do: walk through the art galleries, peruse the archives and texts in the library, relax in the Japanese tea garden, or do a little educational exploration in the Botanical Center. I love visiting so much that I invested in an annual pass!
Hopefully there are enough things on this list to keep you extremely busy while off-campus. And don't forget to wear sunscreen! That L.A. sun is scorching.