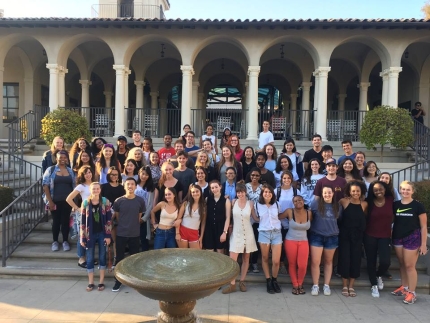 Oh, what's that? You're a poor college student in need of a job?
Great, let me introduce you to a little thing called the Green Bean. I'm pretty sure all my fellow Oxy students have heard of the #1 rated coffee shop on campus, but for anybody who doesn't know, the Green Bean is a completely student run organization that provides everyone with the very best beverages at Occidental College. On that note, I am going to tell you a little bit about why I love working at the Green Bean, and why you should too.
Even though there are so many great campus jobs, the Green Bean is definitely the most rewarding. First of all, the Green Bean is one of the only organizations on campus that is completely student run. I mean, it can't get much better than that. As a result, there are many opportunities that you can't find at any other campus job. The managers, who also happen to be very busy students, work very hard to keep the Green Bean up and running seven days a week so that we students don't fall asleep in class. The experience of being a manager is not like anything else on campus because it provides them with great experience that they can take away for life. I'm not a manager, however, so let's get back to why I chose to work at the Green Bean.
This is a little embarrassing, and I'm probably going to hate myself for sharing it later, but this past summer I applied to about 10 jobs and didn't get a response from any of them. Sad face, I know. When the Green Bean application came out, I was so excited because it's honestly been my lifelong dream to work at a coffee shop. Working at the Green Bean is everything I expected, and more. I can honestly say that I feel so awesome when I work behind the bar. Not only is making drinks surprisingly satisfying, but learning to work in harmony with other employees is a fun and important experience. I especially like working at the Green Bean because I am always involved and doing something. Also, for people who spend way more meal plan money than they should, free shift drinks are so clutch :). I am the type of person who likes to be active and social, and working at the Green Bean is a perfect combination of both!
I would rate working at the Green Bean a solid 10/10, and if you are someone looking for a fun on-campus job, being a barista is a definite must. I've made so many new friends, and now will hopefully feel a little more confident when applying for jobs over the summer! Even if you don't wanna work at the Green Bean, but just wanna buy some amazing beverages and chill, we love the enthusiasm!