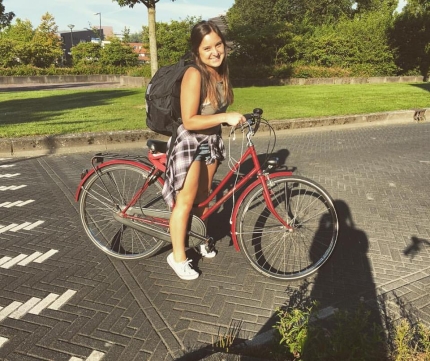 I am studying abroad in Amsterdam this semester in the SIT program Netherlands: International Perspectives on Sexuality and Gender.
I live in the southeast with my host Milly. I also have the opportunity to spend time with other members of Milly's family as well. I have bonded with her nine-year-old granddaughter, but because she speaks very little English and I don't speak Dutch, we communicate in different ways. One of our favorite ways is to show each other music videos we like. Milly and her granddaughter both teach me Dutch words and help me with what I'm working on in class. I ride my bike four miles each way to get to and from school every day. So far the weather has been beautiful, but it's about to start raining a lot…. we'll see how the biking goes when that happens.
I just spent two weeks with my program travelling around Morocco. We visited Rabat, Volubilis, Fes, Marrakech, and Casablanca. In Rabat I was lucky enough to see two Oxy friends and one friend from my hometown. My favorite part of Morocco is the architecture, especially the details in Hassan II. Hassan II is a mosque in Casablanca. The inside fits 25,000 people and the outside fits 80,000 people. The highlight of my trip was when I ate lunch with a local family in Rabat. My host mom for the day brought me into her room and dressed me in a beautiful kaftan. As she dressed me in her clothes, I was completely speechless. That moment with her is something I will never forget.
My sexuality and gender courses are taught by people who have personal experiences that correspond with the content of their lectures. Many of our lessons are also taught by physically going to places outside of the classroom. In addition to our courses, we are also preparing for the last four weeks of the program where we will conduct independent research. My project is about how LGBTQ identifying adults experience their identities in traditional Christian contexts. For my senior comps project at Oxy, I plan on conducting the same research in the United States and then comparing my results.
The best part about my program is how much I learn from my professors and classmates. The people I met have made me question everything about who I am and where I come from, but in the best ways possible. My friends here prove how important it is to leave where you come from and not only learn about other people's perspectives, but use what you learn to make yourself a better person, friend, activist, and ally.