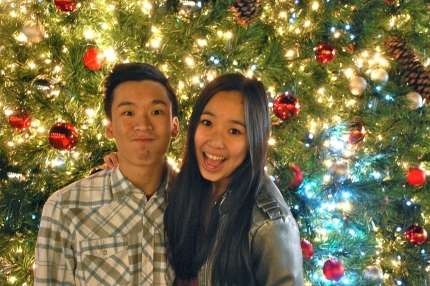 As an avid Christmas lover, I am constantly counting down the days until Christmas. I am obsessed with white Christmases, but unfortunately I've never been able to experience one because California – it's on the bucket list though. Anyways, here are a few things to do before the best day of the year arrives. (To all my Jewish friends, I am so sorry and if you don't celebrate Christmas, maybe stop reading now)
1) Buy an advent calendar. This is a must. Unless, for some reason, you are a Grinch or don't like chocolate, there is no possible downside of buying a nifty advent calendar. Not only are they an essential part of the Christmas season, but they reward you with glorious chocolates after a long day.
2) Watch a Christmas movie, or two, or all of them. Maybe my favorite movie of all time, How the Grinch Stole Christmas is quite possibly the best Christmas movie out there. I mean, who doesn't love Jim Carrey? Wait, but then there's Elf. Ugh I can't decide. Just watch them all – it will get you in the spirit!
3) Make a Christmas playlist. Who doesn't love music? I know that sometimes Christmas music is suppppperrrrr annoying – like when it plays in October. Nevertheless, a Christmas playlist is essential for those long car rides, Christmas parties, or just jamming to in the shower. Mine mostly consists of Michael Bublé, but I really am trying to branch out.
4) Decorate. Decorate it all. Your dorm room, your staircase, your car, your bathroom, your neighbor's lawn. Everything. Decorate it all. Nothing is better than walking around and seeing that blowup Santa, Christmas lights hanging from the walls, or fake snow painted on the windows. It's not Christmas without decorations!
5) Rock a santa hat. Santa hat's are in now, FYI. Maybe just for like December, but they keep you warm and make you look freaking amazing. Do it.
6) Visit isitchristmas.com. You'll probably be disappointed, but it will make it so much better when it actually is Christmas. I PROMISE.
7) Go caroling. Spread the joy! And if they slam the door in your face, sing even louder!
8) Drink peppermint hot chocolate (or any other holiday flavored drink). You can probably find this magnificently delicious drink almost anywhere, but I personally loveeeee it from Starbucks. If you don't like hot chocolate (who are you), any other holiday drink will do!
9) Buy an ugly Christmas sweater. Cause why not.
10) Pass your finals (ugh). I know I probably just killed the mood, but often times I get so caught up in the excitement that I forget we actually have finals. The easiest way to put a damper on that Christmas season is to tell all your overly curious relatives that you failed your final exams, so get studying!!!
Now that you've heard everything you absolutely HAVE to do before Christmas, go and make a checklist so you don't forget!! It's probably obvious, but I am obsessed with Christmas. Happy Holidays!