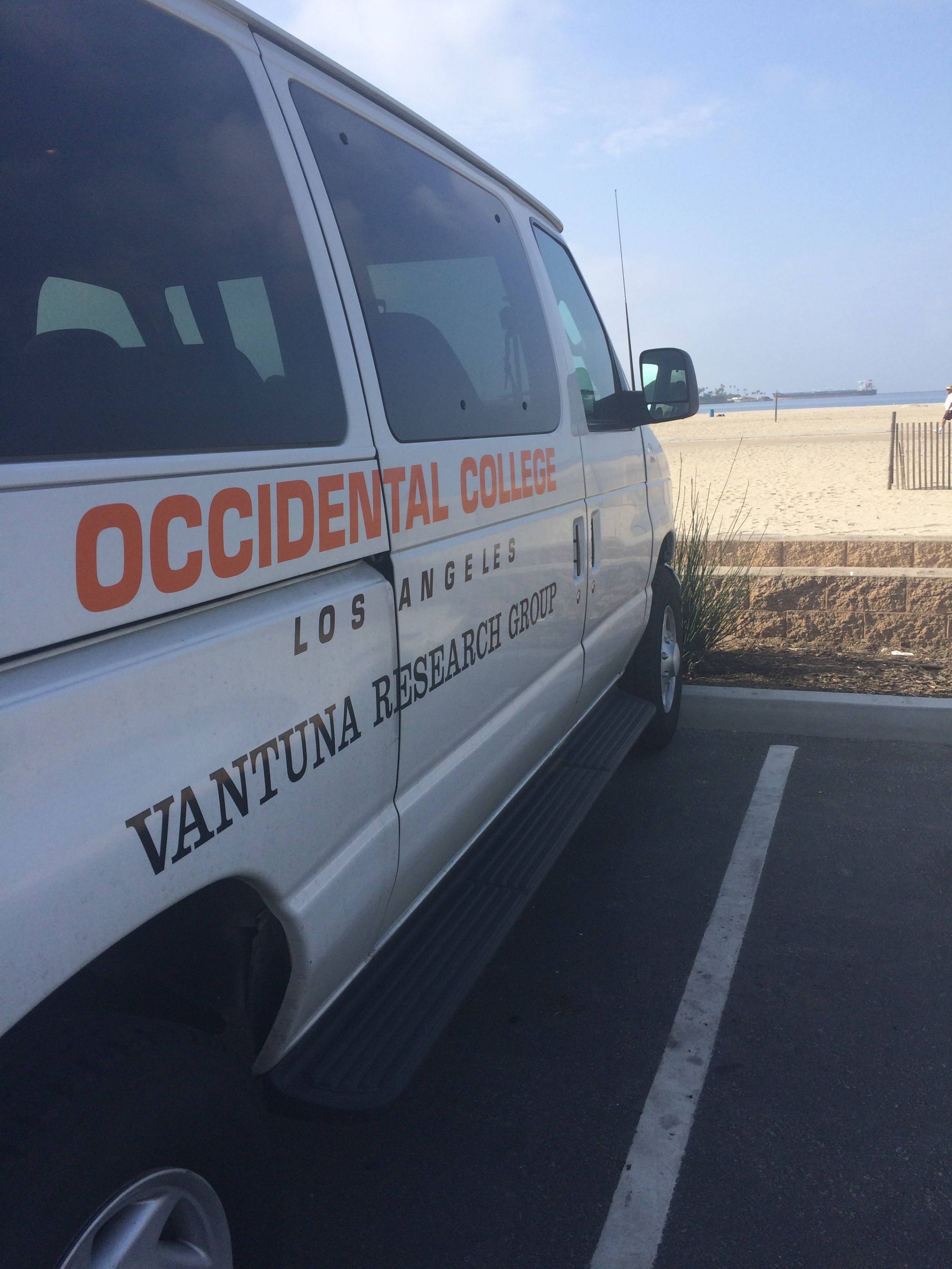 I started out my day thinking that by the end of my marine ecosystems (Bio 260) field trip, I would have an awesome day of fish collecting to write about.  That all changed at about 10:30am. 
As instructed, our lab group assembled at 7:50am outside the Moore lab, ready to head to Belmont shores to perform 6 beach seines.  The beach seine net, the buckets, the coolers, and all necessary instruments were loaded in the vans, and we set off to join the traffic that awaited us. 
When we got to the beach, we made the trek over to our first beach seining location.  Beach seining is a method of fishing which uses a net with a collection bag in the middle, where the net is deployed off shore and pulled in.  We extended our 100ft seine out 30ft and pulled it in, trapping all the fish in the bag.  Fish were flying all over the place when we were trying to sort out the needle fish from the queen fish and the other smaller fish we caught.  While measuring the varied fish, numbers were flying around in every direction, hoping that the right person with the right clipboard recorded the correct length.  Once all the fish were sorted, measured, and recorded (we are talking over a hundred fish), we threw them back and started a second seine.
Hip deep in the water, I looked back and saw a red jeep on the sand and a woman in uniform talking to a few of the students.  Professor Williams told us that it was possible we could run into some trouble, but we just had to pull the "we have a permit" card.  Under my breath, I said "pshhhhht chill, we have a permit."  I turned back and kept pulling the rope in.   Half-way done bringing the seine in, we started to hear shouting over the load speaker of the car, frantically telling us to get out of the water.   We finished bringing the fish in, dumped them in a bucket, and huddled around Prof. Williams and the official. 
When I heard why we needed to get out of the water, I had to take two steps back.  Somehow, I thought that if I exclaimed "WHAT!" maybe the answer would change.  It didn't.  There was still a sewer spill that shut down the whole Long Beach shore. 
This news cut our data collection short.  By 10:45, we were all squeezed in the vans and on our way back to campus.  We were promised a smorgasbord of fish species to marvel over and Chipotle on the way back.  Instead, we were the ones doing the promising: to shower as soon as we got home!