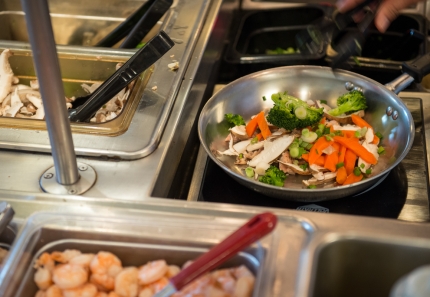 One of the things I have to mention every time I talk to people about my school is the food here.
Food at Oxy is ranked no. 8 in the nation among all colleges in the U.S., and second for vegan and vegetarian options. The Marketplace is the biggest dining facility at Oxy, and one of my favorite places on campus.
One of my favorite things about the Marketplace is that there are different choices every day. There is the Salad bar, Sandwich station, Homestyle station, Saute station, Chef's corner, and Grill station. The Salad bar serves three kinds of freshly cut fruits, three salad greens, and almost twenty different other vegetables and dressings every day. I was curious about how many different combinations of salad there could be, so I ended up eating salad for dinner for a whole semester my first year at Oxy. There are just so many different things to try! Another station I really like is the Homestyle station, which serves different meals almost every single day, and there are always gluten-free and vegetarian choices.
The made-to-order dishes at the Marketplace are amazing! On Mondays and Wednesdays there is made-to-order stir fry; on Tuesdays and Thursdays there is made-to-order pasta and wood-fired pizza; on weekends there are made-to-order omelets. Although the line is usually around 10-15 minutes during busy hours, it's definitely worth the waiting.   
 Another perk of eating at the Marketplace is the low price. Every student living on campus is required to purchase a meal plan (A, B, C, or D). With the meal plan, the food only costs half of the original price. Unlike a lot of university dining halls which charge the same price for every meal, the Marketplace charges students based on what they actually get. And for a light eater like me, meal plan C, which equals to $11 a day, is more than enough.