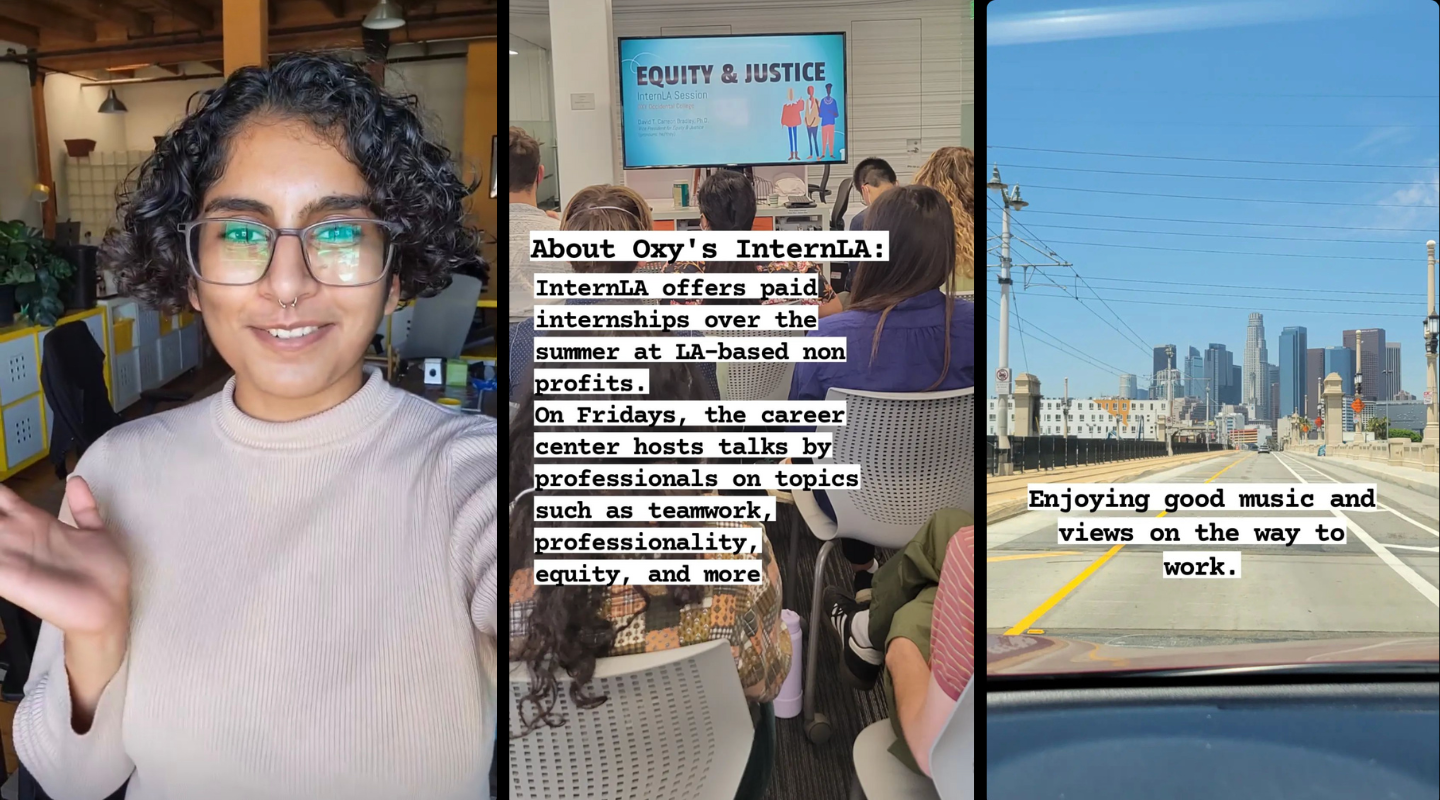 Learn more about InternLA—Occidental's annual paid internship program—and the Hameetman Career Center! Read on to hear Oxy student Darius Amir ('23) recount his experience first-hand with InternLA; from the support at Occidental's Career Center, to the interview process, to the work itself right here in LA.  
I heard about InternLA through some career prep workshops that the Hameetman Career Center offers. What motivated me to apply was the large variety of organizations that were participating in the program. There were lots of impactful nonprofits that influence the Los Angeles community in huge ways.
When I interviewed with Young Storytellers, I had two interviewers that asked about my overall experience that was directly relevant to the internship role, as well as more generally. Prior to the interview, I had been nervous about what it would be like. Thankfully, the Career Center offers workshops on creating effective resumes and excelling at interviews. Plus, the two interviewers were very welcoming and approachable. I shared about my experience in social media, video editing, and writing and the organization shared about their core values and the impacts they had made within the community. 
Working for nonprofit organizations, especially those with smaller staffs, leads to every day feeling very different. My main responsibilities at Young Storytellers were coordinating social media campaigns, copywriting, updating our website, creating digital content, doing some spreadsheet work, and more communications and operations related tasks. Some days I would spend entirely editing video interviews or making content to increase volunteer recruitment. Other days, I would write emails and create slides for weekly all-team meetings. 
Throughout the summer, InternLA hosted weekly talks from the participating organizations' supervisors. These talks taught us about professionalism, equity, critical thinking, team work, leadership, and many other valuable skills that are important to have in a professional setting.
Overall the program was a fun and significant experience that other students would gain a lot of value from participating in. As a result of interning during the summer through InternLA, I got offered another internship during the fall semester with the organization. This experience can lead to further professional opportunities.
For students that are interested in applying, I would encourage them to interview the organizations they are applying for, as well. Learn about their values, the type of work they do in L.A., and the supervisors' leadership styles to see if they would be compatible. Also, think about who specifically the organizations help and in what ways they do it.