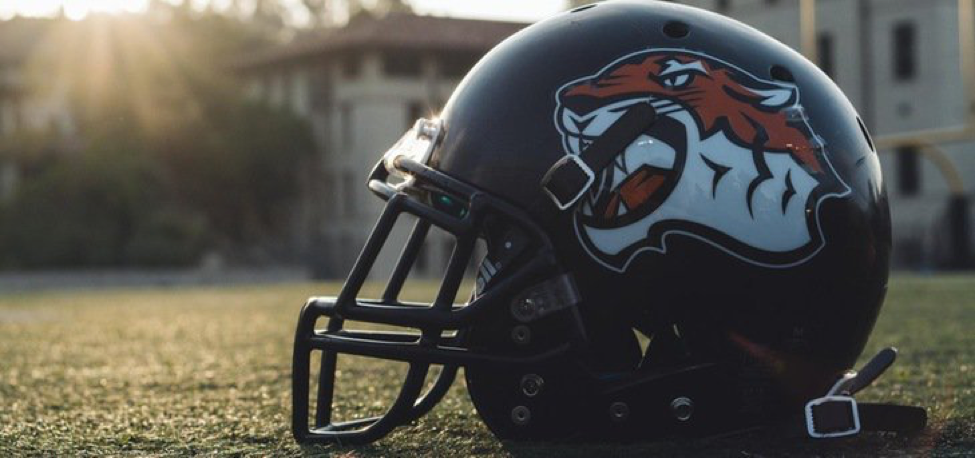 Football has been played at Occidental since 1894, and my teammates and I are ecstatic to take the field late next August to start the 124th season of Tiger football after what was a tumultuous previous campaign and a winter break sewn with uncertainty.
And although the sport has changed tremendously since 1894, when Occidental faced Los Angeles High School and a reform school in Whittier for their only two games in their inaugural season, one thing remains constant. Occidental College football players are gritty, proud men who play the game not for scholarships or fame, but for the love of the game.
The premature finish of the 2017 football season at Occidental was certainly discouraging, but I am extremely proud of the attitude my teammates have responded to this adversity with. I think it to be eminently special that after such a season we are able to fill the weight room five times a week, including three 6 a.m. sessions. Looking forward to next season, we remain optimistic due to the phenomenal job our coaching staff has done recruiting. I feel very confident that we will field a deep and competitive team next year and for many years to come.
Oxy has incredible potential as a football program that has gone somewhat untapped in the years since our dominance of the SCIAC from 2000-2010 under Coach Dale Widolff. Recruiting players to Oxy is not a hard sell. In Division III recruiting, as opposed to Division I, prospective players are far more interested in the state of the institution than the state of the football program. Division III football players are in college first and foremost to get an education. Oxy sets itself apart from other Division III and SCIAC rivals with its elite academics, and its urban location in a global city like Los Angeles (not to mention the beautiful sunny weather we get to play and practice in). The shock of the past season has spurred the administration into action regarding the football team, and we have a unique opportunity for an incredible turnaround in the coming seasons. I would not be surprised to see the incoming class of 2022 win multiple SCIAC championships in their time at Oxy.
For now, my teammates and I are hard at work to be mentally and physically prepared for the coming season, feverishly working out 10 hours a week and biding our time by playing rugby for the Occidental College Blackshirts, who are looking ahead to nationals, qualifying with a cavalier attitude.
I'll finish with a rosy look ahead to the distant future. Occidental has played Pomona every year since 1900 (except 1943 and 1944), and since 1941, the winner of the game has gone home with a trophy in the form of a drum. A drum which has the results of the past 75 matchups etched into the side. I hope that sometime in the far future of the program, a rookie will notice a score missing for the year 2017 and a veteran will inform him of the cancelled season, but more importantly about the team that stuck together through everything to keep a time-honored program going when most thought it was in its last days. I hope the score following the omitted season will show an Occidental win to reflect the pride and grit this team of brothers has fought with through it all.