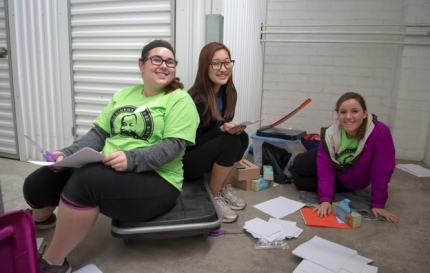 Last Saturday was Oxy's annual MLK Day of Service. The MLK Day of Service is a big service event on campus, and around 200-300 Oxy students participate each year, volunteering in the Eagle Rock community. This year we had a total of 20 different sites, and the volunteer activities ranged from gardening to mentoring.
I was a site leader for Girls on the Run, a non-profit organization geared towards empowering young girls and helping them realize their full potential as students, daughters, and friends. The nonprofit organizes after school mentorship programs for girls in grades three through eight. The goal of Girls on the Run is to provide social, emotional, and physical support for the girls. The girls are actively encouraged to pursue healthy relationships throughout their day to day lives, and at the end of the program, they celebrate by participating in a 5k run!
As a site leader for this organization, I communicated actively with Katie, our community partner for Girls on the Run. In order to help the mentorship program run smoothly, we were asked to help sort out and assemble backpacks for all of the teachers. The items that we packed were an assortment of a variety of different products. Ranging from school supplies to crafts, we filled the backpacks with all of the materials that the mentors would need in order to engage in activities with the girls. Some of the work that we did involved cutting paper, counting off the products into bins, getting into an assembly line and placing products into backpacks.  
After an entire day of volunteering at the non-profit's storage unit, myself and the other Oxy volunteers at my site were able to successfully finish 68 backpacks for the 3rd-5th graders and 22 backpacks for the 6th-8th graders! It was a fun filled day with the nine other Oxy students who participated at my site, and we made a lot of memories with not only each other, but also our community partners. The Oxy MLK Day of Service is a great way to give back to your Eagle Rock and other city community members, and I highly encourage everyone to sign up to be a volunteer next January!