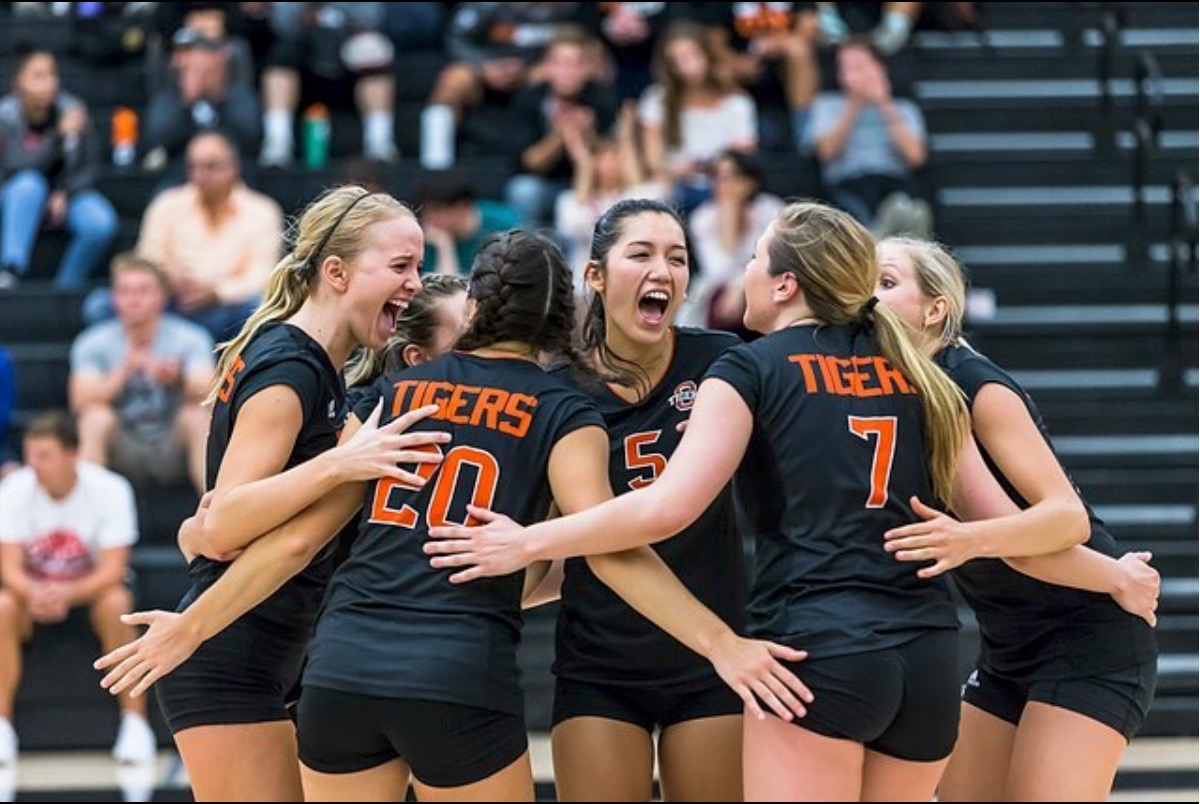 Since I was 10 years old, volleyball has been a huge part of my life and now, as a senior in college, I have just finished my last season of volleyball ever. It is the end of an era.
With 11 years in my pocket, I know it's not actually the last time I'll ever play volleyball, but it may be the last time I'll do it competitively, which is so emotional! I definitely wasn't ready for it to end as soon as it did, just like I'm not ready for my four years at Occidental to end in the Spring.
Ironically, I actually stopped playing volleyball my senior year of high school for a bit, and ruled out playing it at colleges to take a break. However, Oxy's volleyball coach, Heather Collins (then, a stranger, and now my favorite person), emailed me suggesting I come visit Oxy just to see what it's like. I did an official visit and, without sounding too cliche, fell in love with Oxy! I remember shadowing a fellow student-athlete in an intro diplomacy and world affairs class, and thought: this is what I want. The Quad, the Marketplace, the trees, I loved it all! I truly fall in love with this school more and more each year.
Coming to Oxy as a first-year with an already-made group of friends made me feel like a real part of the culture and community here.Being able to meet people from all years and classes from the get-go was a really special experience. Volleyball kept me disciplined and allowed me to focus on my academics, which I needed as a person, and it's how I thrived and found myself. Volleyball shaped my fall semester schedules for all four years and allowed me to form the closest friendships I have at Oxy. Waking up at 6:30 a.m. for lift sessions , having breakfast with the team and going to practices right after class every day really forces you to either love or hate the people you're surrounded by. I'm so lucky to adore the women I'm surrounded by. When we're playing games, we are able to tell each other what we need from one another, fostering good communication on and off court; it really is the most supportive community. The spring semester really is strange when you go from spending every minute with your best friends on the court to hardly seeing your team because everyone has their own schedule!
Since our season is in the fall, and a lot of other sports teams' seasons are in the spring, this allows for everyone to come out and support each other. All student-athletes have a unique camaraderie, they understand the pain of having to wear your gear all day because you don't have time to go home and change, among other things!
Our last game was super emotional. I remember screaming our "ah-oos" cheer knowing it was the last time I'd celebrate this tradition. Every high-five was meaningful as I was taking it all in. I remember walking into the gym that day and one of the girls told me I was about to get 1,000 assists—I didn't even realize they were keeping count! So when I reached 1,000 assists in the first set, they announced it, and everyone was cheering.It was such a surreal feeling and the tears were streaming.
If you want to experience a really tight-knit community, whether you are in a sport or not, come to Oxy. Walking around everywhere and smiling at people brings me so much joy, since everyone smiles back. I came to Oxy for volleyball and now, as a senior, this has definitely been the best year. At Oxy I've learned to put my whole heart into everything I do, and I encourage everyone to join me!