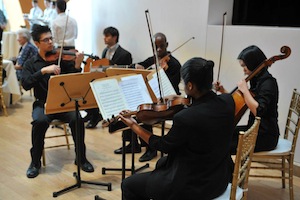 As a musician at Oxy, I have been offered a plethora of opportunities to not only continue my interest in music, but also work with awesome students, faculty, and alumni organizations! Here are just a few awesome music/instrument-related things Oxy has given me!
To clarify, I am not a music major, nor do I plan on becoming one. I also do not consider myself a superb musician. I am just a simple cellist who's somewhat involved with the various opportunities that the music department has held. I'm sure the music majors get even more perks!
1. Oxy-Cal Tech Symphony Orchestra - This orchestra is unique in that it composes (pun-intended) of not only Oxy and Cal Tech students, but also community members! Even though our orchestra members come from a wide range of ages and backgrounds, our wonderful conductor Dr. Gross works his magic and helps us come together and create beautiful music. We've played full symphonies by Beethoven and Brahms as well as shorter pieces and concertos.
2. Chamber Orchestra - Chamber has improved my cello playing skills tremendously. In this fun one-unit course, I learn how to work and play with other musicians in an intimate setting, and I also receive the perfect amount of attention from our chamber coach, a professional cellist from the LA Philharmonic! The musicians I work with are both incredibly talented and fun to work with. I cannot ask for a better piano trio!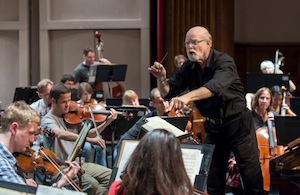 3. Music On a Friday Afternoon - Oxy holds occasional performance opportunities called Music On a Friday Afternoon (MOFA), where student singers, instrumentalists, and composers share musical pieces they've been working on, often in preparation for another recital or performance. These events are great for students and faculty who want to relax after a week of hard work, and for musicians who want to get a taste of performing in front of a live audience.
4. Paid gigs!!! - Back in November, Oxy's music department asked me and some string players to play in a string quartet at an alumni association lunch event at--get this--Walt Disney Concert Hall. Needless to say, the experience became the highlight of my first semester at Oxy. I even got to sit next to and converse with Mr. and Mrs. Hameetman during lunch, the donors of our beautiful physics building--Hameetman Hall! In addition, I played with a flute trio at a memorial event yesterday for a previous Oxy art professor. It was amazing getting to meet some Oxy alumni and retired and current faculty while playing music!
All in all, I am so glad to continue playing cello at college (thanks, Mom!). Even though I don't plan on majoring in music, Oxy still provides students awesome ways to get involved with the music department and beyond!