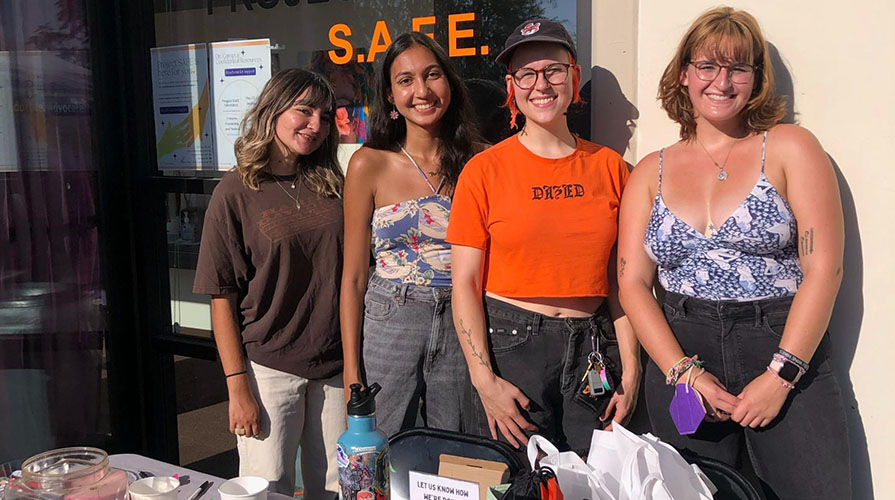 Students and staff alike continue to establish an environment of care and accountability at Oxy, through trainings including what healthy relationships look and feel like, how to create boundaries and navigating interpersonal and sexual violence. 
The Project Safe office is a safe space for all people on Occidental's campus. Our work is centered around interpersonal and sexual violence prevention and survivor advocacy for those who have experienced violence. We put out a wide array of programming around healthy relationships (both platonic and romantic), being an active bystander, navigating consent and boundaries, and much more. The organization is something that is very unique to Oxy. When students, including myself, arrive from high school, many of them have only a baseline understanding of consent in terms of sex. However, as we always say at Project Safe, consent is a culture and must exist in all relationships whether they be familial, platonic, sexual, or anything else.
The student programming assistants (PAs) and full time staff are always working to deepen our connections across campus groups, fostering an environment of care and accountability among students, staff, and faculty. Our office is responsible for training the athletic teams and Greek life organizations on campus on healthy relationships, violence prevention, and how and where to seek support if they or someone they know experiences interpersonal or sexual violence. The PAs also offer weekly one-on-one peer support hours where fellow students can come talk about anything from navigating interpersonal difficulties to how to access advocacy services or off-campus support from local organizations like the LA LGBT Center or the Center for the Pacific-Asian Family.
In 2020, my Zoom orientation felt like a series of adults talking at me and other first years about what our college experience should look like. However, the Project Safe presentation gave us a chance to learn from our peers about what consent looked like in college, and gave us insight into how to set boundaries and to communicate what we wanted our college experience to be. From that moment, I knew I wanted to be a part of Project Safe. Now, when giving consent trainings to incoming first-years, I feel like I am fostering the sense of community care that made me so excited to come to Oxy.
Take Back the Week and Denim Day are two of Project Safe's biggest events during the year. Although we are constantly striving to make campus a safer and more comfortable place for survivors and allies alike, these two events in April are the culmination of Project Safe's work during the year.  Take Back the Week is an expansion of the internationally recognized and celebrated "Take Back the Night" movement which began in the 1970s and aims to take a stand against all forms of sexual violence. During Take Back the Week at Oxy, we put on a series of events that have ranged from workshops about communication to tantric dance classes. Denim Day, which is part of Take Back the Week, encourages students across campus to wear denim to bring awareness to victim blaming and to stand with survivors. This year we are excited to provide the Occidental community with a fun and educational series of events including "Hood Herbalism" and a patch making workshop!
Working at Project Safe has allowed me to grow so much as an educator and a person, and has made me consider so much about how I navigate relationships and boundaries. Being able to create and lead my own workshop about sexual communication (Let's Talk About Sex, Baby!) gave me insight into how hookup culture at Oxy can be improved, and helped me to make a tangible impact on my peers. Being recognized around campus by people I have trained in consent and communication is so rewarding because it shows how much people are willing to do to learn and better themselves, and how interested so many Oxy students are in making our campus culture as caring as possible.
I've been working for Project Safe for nearly two years now and it has been one of my favorite parts of my on-campus college experience. I've always been a highly empathetic, caring person and working at Project Safe has helped me channel that into learning and teaching my peers about healthy relationships and sexuality. The topics we deal with, both on the education and advocacy sides of our work, are still sorely under-discussed within families and schools. Because of this, it's important for young adults such as college students to have somewhere that they can turn to learn about them. I have learned so much from the staff here. Joaquin, Lizzy, and Stephani have contributed to my own growth as a person and a peer educator. While I will be graduating this semester, I absolutely cherish all the experiences and knowledge I've gleaned from my time working in the office and with students and staff on campus.