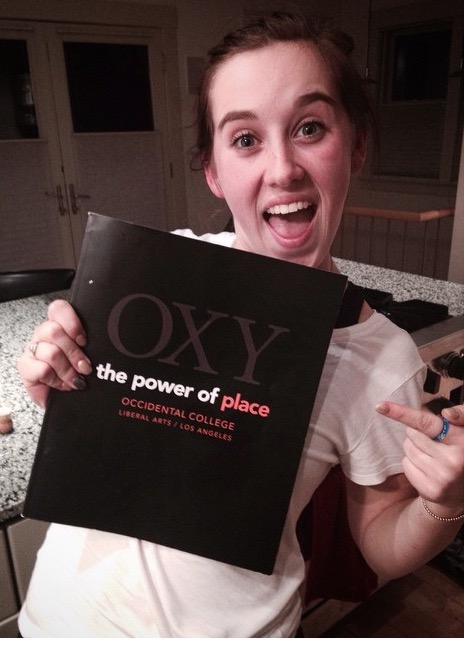 It is that time of the year again: college application season. Seniors in high schools 
around the country have made lists of their top schools and have begun the process of crafting 
essays and answers to "best capture who they are". It can be a stressful time. 
I remember that process well. My name is Neah Bois and I am a first year from Salt Lake 
City, Utah. I play lacrosse for Oxy and am involved with a number of organizations on campus. 
My adventure with this school started way back in the spring of my Junior year. 
The first thing that hit me when I visited was the beauty of the campus and the endless 
opportunities available at Occidental. When I saw the bright patio of the dining hall, the ever-
changing media wall of Johnson Hall, and the quad with its benches, trees, and crazy squirrels I 
was amazed. 
My tour guide filled my head with information about the countless opportunities 
available to students. I dug around the Occidental website, and the more I found out the more I 
fell in love. It was because of this that I decided that Early Decision was the best option for me. 
So what is Early Decision? Well, you are applying earlier. Instead of applying in January 
and hearing back in April, you apply in November and hear back by mid-December. The main 
difference between ED and Early Action, is that ED is a binding agreement meaning that if you 
get in, you will be attending Occidental where as EA is an early application, but you are not 
agreeing to attend the college. ED can be a scary concept to some, but I want to tell you the plus 
sides of ED and why I personally chose it.  
I chose ED because I was 100% sure that I wanted to attend Occidental. If you find a 
school you know is perfect for you, then I suggest thinking about ED. 
The other reason I chose ED was because I was a little impatient. I didn't want to sit 
around and wait when I knew what I wanted! It took so much stress off my senior year. While 
my other friends were still filling out applications, I was wearing my Occidental hoodie with 
pride. While my other friends were waiting to hear back from colleges, I was already talking to 
professors about classes and majors. Applying ED allowed me to enjoy my senior year and make 
connections with my classmates that I may not have made had I been pouring all my energy in to 
applications. 
So here is my advice to all you seniors deciding what the best option is for you: If you 
absolutely love Occidental and know you want to go here no matter what (because it is the best 
school ever) and have spoken with your parent(s)/advisor(s) about it, then apply ED. It was the 
best decision I have ever made and I could not be happier here. The friends I have made, the 
connections with professors I have created, the knowledge I am obtaining and the community I 
am a part of makes me smile everyday. Occidental is truly the best place for me, and if it is the 
best place for you, apply. Who knows, maybe I'll be seeing you in the Fall of 2016!