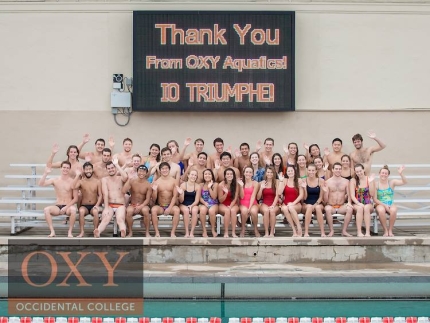 As an active member of Occidental's Swim Cult…
I mean team, I have been looking forward to SCIAC Championships all season long. Because our season started in September and SCIACS are in February, many swimmers--myself included-- have struggled with a mix of emotions throughout the season. The road to SCIACs has been filled with moments of distress and possible thoughts of quitting, yet also moments of happiness and clarity. Finally, we have less than 10 days till our championship meet. We couldn't be more excited!
This season started out with a bang: we hired head coach Steven Webb, got a new (legendary) strength and condition coach Ricky Lang, and learned that Occidental will finally get a new pool (May Taylor Pond forever be remembered). Coach Webb has lit a fire, one that I did not feel last season. Coach Ricky has built up our strength so much that my teammates, such as Joan Kronick, hardly recognize themselves in the mirror. Together these coaches have lead us to a fourth place position in our league.
While our team is on the smaller side, we have managed to surprise other teams in our league. Team Captain Austin Lashley is a contender for SCIAC finals in all his events with the possibility for qualifying for nationals in 100-yard fly. Freshman Annika Moen has posted personal best times in the regular season with hopes of qualifying for her first SCIAC finals. Ellie O'Brien, who placed 2nd in 100-yard breast last year at SCIACS, is looking to repeat her performance and possibly win the event. As a team, we are planning on placing higher than last year, setting a tone for the years to come.