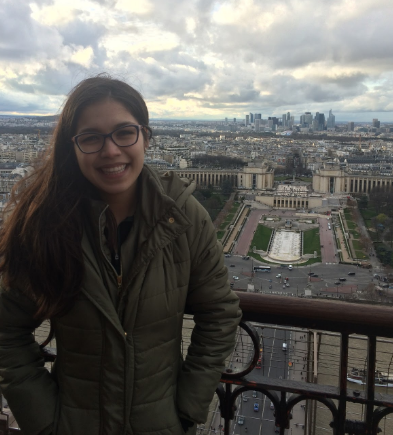 Post-grad, what a scary time to think of!
My years at Oxy somehow ran out quickly; I remember looking up to each class before me and thinking they all had it all figured out and counting on knowing exactly what I was going to do in the future by senior year. Shoot I even thought I knew exactly where I was heading as a first year, but plans shift, passions evolve and I've learned that that is ok.
I remember laying in my bed in Paris while I was abroad looking up at the ceiling wondering why I felt a little unenthusiastic while thinking of my future. Upon deep reflection, I realized that I was not truly passionate about pursuing international law but rather was incredibly interested in working towards equitable treatment for underrepresented communities both locally and worldwide. I remember reflecting on all my courses at Oxy and finding that the classes I found most enjoyable were those that involved languages. Specifically, I remember falling asleep dreaming about my Spanish phonology course and revisiting my love of learning the articulation of sounds particular to certain dialects and regions. As I was a Diplomacy and World Affairs major at the time, I probably wouldn't have even taken this course without Oxy's core requirements causing me to do so. 
I woke up feeling giddy thinking of my favorite aspects of my linguistics course and realized there and then that phonology was a huge passion of mine and that it had been for as long as I could remember. I may not have had the vocabulary to explain my fascination for the articulation of sounds growing up, but I remember that when learning English I focused on my teacher's mouth to try and mimic the new foreign sounds. The following week while talking to my 5-year-old French cousin about school, she mentioned that one of her Colombian friends struggled to pronounce French words and roll his 'r's until he began to see a speech pathologist. I was transfixed by the prospect of being able to work with bilingual children and assist in their linguistic development in a similar way that my own English learning was facilitated.
Spending spring semester of my junior year abroad made me realize my passion for phonology, now I had to figure out how I wanted to pursue a career in it. So I went back to my hometown in Oregon and reached out to local speech pathologists working in schools, privately, and in hospitals hoping to shadow them and get a better sense of what the profession required. I was able to shadow private practice work with children and hospital work and immediately fell in love with the work that involved younger kids. I specifically remember being able to participate in a session and having a toddler tell me that they hoped I would continue to work as a speech pathologist with him. It was at that moment that I truly felt that I knew what I was going to do with my life and post-grad.
I began to research programs and requirements, specifically searching for the programs that provided the five courses I lacked alongside the regular graduate program, narrowing my search even further to bilingual programs. Around the same time, I came back to Oxy for my senior year at which point I began to meet with my professors and talk about my future plans. My professors were so supportive of me and my career shift, connecting me to alumni who had made similar career changes. They not only wrote me letters of recommendation but they also helped connect me to people working in the field who were able to help me choose the right program for me. I feel if I was at a larger school, I probably wouldn't have received the same support to the extent that my professors gave me. It was only with Oxy's help that I was able to apply and gain acceptance to University of Redlands, specifically to pursue a Master of Science in Communication Sciences and Disorders. I am so thankful for the connections I was able to make with my professors and all the help and encouragement I received from them and I am so excited for the new adventures ahead! I can confidently say that the support and foundation I've found at Oxy has prepared me for grad school and beyond.