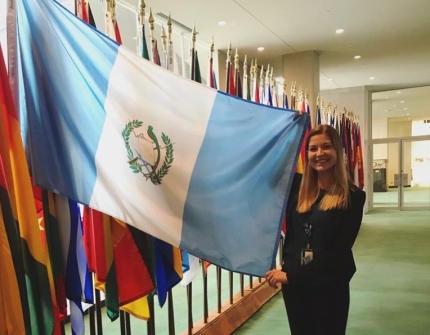 As I write this, I'm watching the verdant, mountainous terrain of Costa Rica get smaller and smaller as our plane gains altitude, beginning our journey back "home" to New York City. We've just finished a weeklong field visit to the Puntarenas and San José regions of Costa Rica, where we learned about issues related to sustainable development and pineapple production.
Just as everyone said it would, the semester has flown by. It's been a wild and wonderful ride. Reflecting on the past three and a half months, the prevailing feeling that I have experienced in every moment and day is an overwhelming sense of gratitude.
My semester at the UN has been a dream come true. I first found out about the Oxy at the UN program when I was a junior in high school, right after taking my first intro to international relations course. One year later, I applied to Occidental. I never expected that out of the ten colleges I applied to, I would decide to become an Oxy tiger. On my campus visit, I met a girl who had double majored in DWA and Spanish, studied abroad in Latin America, and participated in the UN program. So it is possible, I remember thinking to myself, silently deciding that my goal would be to do the same.
Fast forward four years, and I was standing on the immaculate green carpet outside of the General Assembly, flanked by two of my supervisors from the Guatemalan mission. Butterflies leapt with excitement in my stomach as I watched dozens of presidents, prime ministers, and world leaders make their way down the hall of flags toward the General Assembly hall. It was UNGA week, the spectacular grand opening of the UN's 72nd session of work.
UNGA week was one of the most thrilling, exhausting, and memorable experiences of my semester. I had the opportunity to meet several heads of state, including Jose Guillermo Solís Rivera (Costa Rica), Jimmy Morales (Guatemala), Evo Morales (Bolivia), and Justin Trudeau (Canada). In between listening to General Assembly speeches with my coworkers, I had the chance to attend many high-level meetings and special events on themes such as global migration, human trafficking, gender equality and the protection of healthcare in armed conflict.
One of my favorite memories is attending an event on women human rights defenders, where I had the chance to hear Malala Yousafzai and her father speak about the importance of equal access to education. Another highlight was meeting indigenous environmental and human rights defenders from around the globe, including Bertha Zuñíga Cáceres, the daughter of assassinated Honduran activist Berta Cáceres. The opportunity to participate fully in UNGA week as an undergraduate intern was so special, and it is an experience that I will never forget.
As it turns out, UNGA week was only the beginning. I spent the next eight weeks covering the session of the Third Committee, which discusses social, cultural and human rights issues. Every day, three or four guest speakers, called Special Rapporteurs or Independent Experts, gave a briefing on their topic to the committee, followed by a structured dialogue between member states. At times, the sessions got very heated, which provided for entertaining debriefs afterward with my fellow interns. My experience in the Third Committee taught me more about diplomacy and human rights than I could ever learn in a classroom, and doing all of my work in Spanish helped me improve my comprehension, vocabulary and writing skills.
On the topic of Spanish, I could not wrap up my reflection without acknowledging one of the best parts of my UN experience—working with the staff of the Guatemalan mission. From day one, my staff made me feel like a welcome part of the team, and they treated me not as an intern, but as a colleague and an equal. Working for a small mission gave me the chance to be much more involved in everything (they even let me vote on resolutions at the end of the Third Committee, which still surprises me to this day!) I feel incredibly thankful to my colleagues at the Guatemalan mission for the constant encouragement, for our heart-to-heart talks over coffee, for taking selfies with me during long meetings, for trusting me with important work, and for helping me to grow both personally and professionally during these past few months.
Something unique about working at the UN is being constantly surrounded by intelligent, interesting and inquisitive people. My daily conversation with strangers starts something like this:
Person in the elevator: What mission are you with?
Me: Guatemala!
Person (puzzled): Guatemala! Are you from there?
Me: Umm...I'm from Seattle. But I go to school in Los Angeles. And I'm in New York for the semester. Working for the Guatemala mission.
I think that pretty much sums up the magical thing about the Kahane United Nations Program: no matter where you're from, or what you're passionate about, this program gives you the once-in-a-lifetime chance to work and study in one of the most cosmopolitan, diverse workplaces in the world. Every morning, I scan my badge and walk through the delegate's entrance into international territory. As I walk through the halls of the UN, I hear a symphony of languages around me—everyone here effortlessly speaks two, three, four or more languages. The UN brings us all together, united by a common hope for humanity. It is truly a place like no other.
Because of this program, I have made friends from Greece, Colombia, Pakistan, Myanmar, Panamá, Germany, Costa Rica, St. Kitts and Nevis, Ethiopia and Spain. I have shaken hands with the Secretary General and witnessed historic Security Council discussions that will have long-standing consequences for global politics. I think I have a bit more of a grasp on how the UN system works—and every day here, I have learned just how many things I do not yet know.
I have just a few more weeks left before I will fly home and try to make sense of a life without my constant companions—my bottomless work bag, my delegate's badge, and my more-business-than-casual clothes—before diving back into my final semester at Oxy this January. The past few months have certainly not been easy—I am not exaggerating when I say that it has taken blood (I went through three boxes of Band-Aids in my first month while getting used to wearing heels to work), sweat (no matter what the weather, I somehow manage to arrive at work sweating), and tears (of all the places I have had a mental breakdown this semester, I'd recommend the Qatar Lounge for a good cry). I may not know what I'm doing with my life after I graduate, but I do know that I have a semester's worth of stories to tell about my "UN days," and I am all the better for it.
Learn more about the Kahane United Nations Program at Occidental College