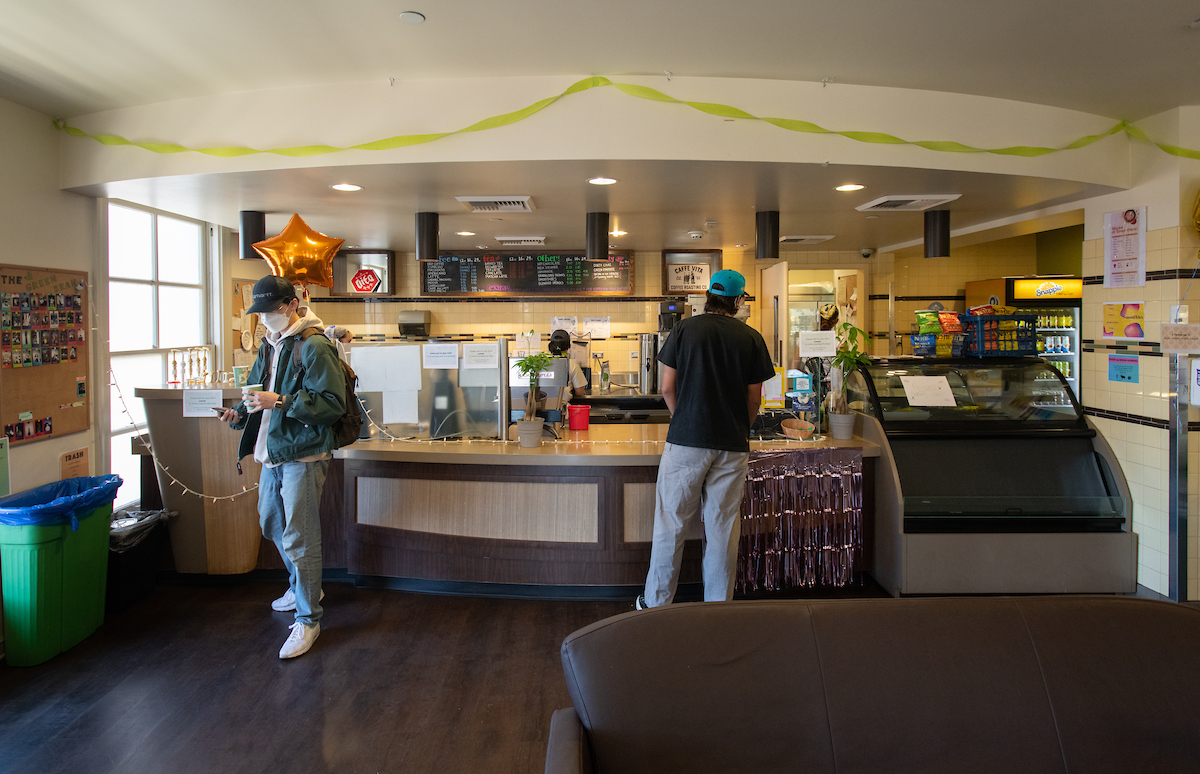 This spring semester, The Green Bean, Oxy's student-run coffee shop, returned to our campus bringing joy and incredible lattes with it. Hear from Green Bean manager Johnna Munsen '22 about why she loves it and what incoming and current students can look forward to!
My name is Johnna Munsen and I'm a senior majoring in diplomacy and world affairs and double minoring in Spanish and studio art. I have been working at the Green Bean for almost four years now, with a two-year hiatus in the middle during COVID. I got hired in the fall of my freshman year in 2018 and was a barista, then a supervisor in 2019 and now a manager! I was immediately drawn to the Green Bean when I got to Oxy for two reasons: one being that I take my coffee very seriously, and so does the Green Bean. We use beans from Caffe Vita, which is an amazing coffee company based in Seattle—where I'm from! Two: the Green Bean has always been a community space, one that centers student art and connection, and to have that space made Oxy feel like home for me.
My experience at the Green Bean has been amazing—it's given me such a sense of community on campus. The Green Bean staff becomes like a little family, it's really special how the Green Bean brings people together. It's entirely student run, so every day that the Green Bean is open for business really feels like a big group achievement, something we can all be proud of. Food and coffee bring people together, and to have this space where everything is provided for students by students is something special.
My favorite drink to make and serve is an alpine berry tea latte, they're pretty and lavender! I also love making any type of latte–we really get into a rhythm here on shift when it gets busy, pulling shots and steaming and pumping syrup. This will sound cheesy for sure but it's like a little song that comes together when all the baristas are working in harmony. It makes you feel really connected to your friends/coworkers.
This semester, students who have never been to the Green Bean have SO much to look forward to! There will be new specialty drinks, more fun events like music nights in collaboration with KOXY, open mics and storytelling nights, merch releases, and most importantly the Green Bean will finally be open everyday for students to find their own special space within the GB.