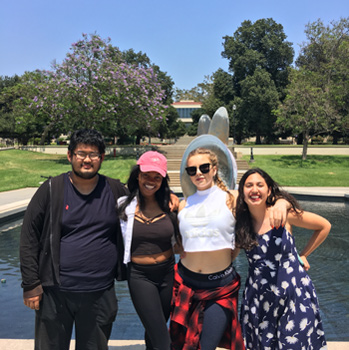 Getting involved in summer research was the best decision I made as a student at Occidental College.
My second semester of 2016, as a recently declared psychology major and a first year, I knew nothing about research. However, I did know that in order to explore the field of psychology and what it offered, I had to take advantage of the opportunities provided.  That was why when I found out about a research assistantship over the summer sponsored by the American Psychological Association, I applied, and almost before I knew it, I was being immersed into an entire world I had never once thought I would explore. Sometimes the idea of doing research sounds so far-off and even scary at first. I asked myself whether or not I would be able to understand the statistics required to find meaningful correlations, or if I could handle the responsibility entailed in participating in a research project.
That summer I learned so much about psychology and about myself just by watching and listening. All of my initial fears and worries went away as I found myself doing instead of thinking, and questioning instead of simply being. I assisted in a collaboration between USC and Oxy, and witnessed firsthand the whole process of data collection, entry, and analysis. It made me realize that conducting research could allow me to further understand my place in the psychology field and give me a better idea of what I wanted to do in my future. My experience drove me to want to apply for a second summer of funding though Oxy's Undergraduate Research Center (URC).
This summer has truly been an unforgettable experience already. Our research team includes two other psychology majors that have been funded over the summer, Kate DeCoste '18 and EvaMarie David '19. Together the three of us, alongside our volunteers including two more Oxy psych majors, Beatrice Terino '18 and Huntington Wu '19, have worked alongside Professor Hopmeyer conducting research in developmental psychology. We have been fully immersed in the research experience, and have participated in every aspect, learning a ton and gaining so many great memories along the way.
My project specifically is a longitudinal study about self perceptions of social standing in adolescence, a continuation of my previous one. As a team, we collected data at a high school, alongside USC graduate student Tana Luo. We read aloud surveys, assisted in answering questions to students, and got to witness our data being collected firsthand. We learned how to enter the survey data, went through around 300 surveys, and meticulously made sure we checked each one for errors. We spent hours reading through literature on our individual topics, created hypotheses, and worked on creating a solid literature review and method section in order to prepare for the analyses to be done. While it has been a lot of work, and we still have a lot more to come, we have grown immensely as individuals as well as growing closer together. I know I will never forget the laughing attacks between surveys, the speakers during the Wednesday lunch hosted by the URC, drinking caramel macchiatos from the Green Bean to stay focused, and hearing stories from the other psychology researchers (particularly about rats in the lab) in our area meetings with Professor Schtulman. Having done this before, I feel honored to have such a great team of people to be with, a mentor who I can count on for anything, and a summer dedicated to truly becoming a better psychology major. I am eternally grateful for this experience and I know that when this summer is over I will feel a mixture of two things: I will breath a sigh of relief when that poster is hanging with the results of my research and my hard work has accumulated to that final product, but I will also feel that strange twinge in my heart that we get when something ends that has changed us for the better.