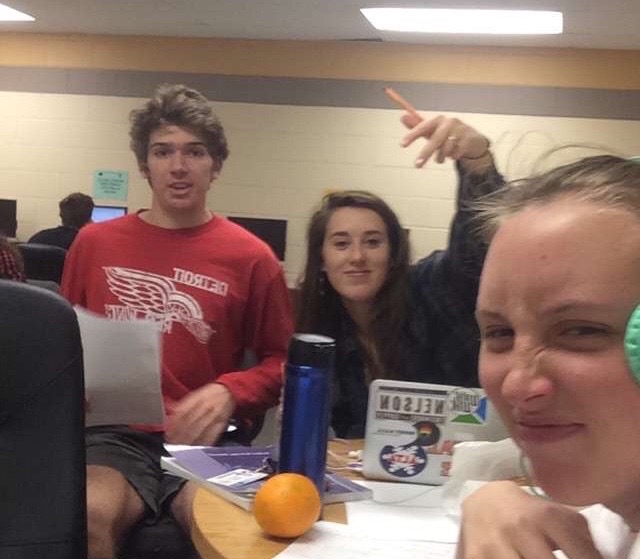 Real talk: college is so much fun. The people, the parties, the teammates and the teachers are all amazing. But I'm going to let you in on a little secret: even studying is fun here at Oxy. Now, you might be asking yourself, "What? Studying, fun? How??" Do not fear, prospective student, for I am here to tell you.
Before I left for college, I remember my best friend telling me to find a place that I could always go to study and do homework. A place that was quiet, private, and open late at night. In my mind, as a scared incoming first year, I thought I was going to be stuck in the dark trenches of some unforgiving library for hours on end. Good news though, Oxy's beautiful campus has a surplus of places to study and do homework that make it not so bad. So here is my list of the best places to study on campus:
Your Dorm's Computer Lab. I live in Braun, a first year dorm on upper campus. On any given night, the computer lab is the place to be. There are a few tables, a couch, lots of chairs and plenty of computers if you don't want to carry your laptop down from your room. It's a really good place to go if you want to study with friends or do group projects. I mostly go there when I don't have a crazy amount of work to do and want social interaction. Fun fact: if you go down there past midnight, I promise you will find me and my friends dancing on top of tables and singing as a study break.
Dumke Commons (both inside and out). As I write this I am actually sitting on the patio outside Dumke with a teammate. The sound of the fountains and students voices as they travel to class is surprisingly calming to me. Not to mention, you get to be outside in the amazing 80 degree weather, even during February. Don't worry though, there are lots of trees and umbrellas to provide shade. Inside Dumke is great as well, with a secret back patio that looks over the athletic field. I come here when I really need some quiet and zen. Its comfy, beautiful, and has some of the best air conditioning on campus as well. Fun fact: it also has some of the nicest bathrooms on campus.
Johnson Hall. Johnson Hall is a wonderful new building on campus that has lots of nooks and crannies to study in. The first floor has couches, high tables, and even a separate room that allows students to optimize their study habits. On the 2nd and 3rd floors, the walls are made up of whiteboard material that are often filled with notes and explanations ranging from biochemistry to facts about human rights in Latin America. There are timelines, equations, and even memes. Yes, memes have made an appearance. This area is great for group study and is especially busy during finals week. Fun fact: the Global Forum media walls makes it possible to see what other current students are studying and writing about.
The Library. Yes, the library, that dark trench I was talking about earlier. Surprise! It's not actually a dark trench where souls go to die during all nighters! I really love the library and have found a few places in there that really help me when I need to study. The stacks hold lots of tiny corners that are great for late night study sessions. That being said, you can see some amazing sunsets from there which make that ten page paper not so bad. The main floor is always bustling with crowds of students and is great for group study. The quiet section/reading room is great for intense individual studying if you are into complete silence. And when you are writing a research paper, the library is great becuase you don't have to travel far to find a book or paper to solidify your thesis. Fun fact: the library staff is very knowledgeable and even rent out computer chargers when you forget yours.
So there you have it! Those are my favorite places to study on campus. And this is just a very small list. There is also The Green Bean, the benches/grass on the quad, the training room if you are an athlete,  and the newly redone Mullin Grove to name a few. The main thing is: find a place that is perfect for you. You're going to be doing a lot of work in college and it is important to discover a place where you can do that best. I promise you will find it here at Oxy.