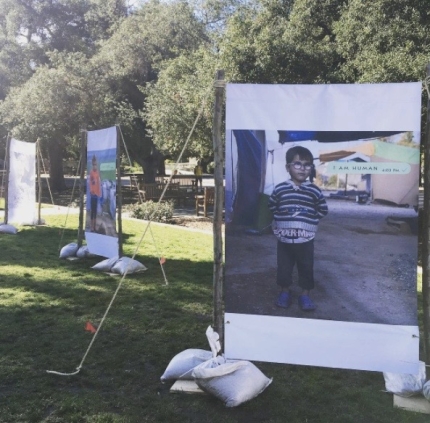 Jayne Wixtead '19 and Zach Solomon '19
This past week, the Occidental diplomacy and world affairs department held their annual UN Week that strives to raise awareness on an issue facing the global community. This year, the DWA department chose to focus on the refugee crisis that is currently affecting over 65 million people today. Speakers, art displays and panels were held around campus to educate students and community members about the struggles faced by refugees and displaced peoples.
For the first time, UN Week featured a student-led organizing committee that worked alongside DWA professors to ensure a successful week. The student committee worked on planning, logistics and promotion to bring together the various events. From Monday to Friday there were 13 events that focused on the common theme of the refugee crisis.
Throughout the week, artwork was displayed throughout campus, in the Cooler, the Green Bean and on the quad. This work was done by a 18-year-old artist, and current refugee, Abdulazez Dukhan. His work is not only inspirational but also unifying for both the Oxy community as well as those affected by the crisis. On Thursday, we were granted the opportunity to have a Skype call with Abdulazez. Our conversation with him was both educational as well as eye opening. He is currently living in a refugee camp in Greece and is preparing to leave for Belgium, though he hopes to one day be able to live and study in the U.S. He outlined his journey from the start of the war in Syria to today, talking about the struggles he faced from law enforcement as well as guerilla groups. Adbulazez took it upon himself to become a leader in his camp, volunteering with medical personnel and taking pictures of people in the camp to raise awareness about the reality of their situation. As an artist, Abdulazez is growing in popularity, from his Instagram (@abdulazez_dukhan) to his open letter to President Trump. His campaign, "Through Refugee Eyes," is powerful and thought-provoking, but the key take-away he wants his followers to remember is that "We are all human. We are all the same." Dr. Andrea Capachetti, a doctor and long-term humanitarian consultant, was Oxy's first point of contact with Abdulazez. Dr. Capachetti highlighted his life as an example of why she "believes in soft diplomacy. He's an 18-year-old kid on the road, away from his home for years. He is the ideal ISIS recruit: no money, no job, very little economic opportunities. He represents the people you want to work with".  
In addition to the events planned by the DWA faculty and the student organizational committee, we were fortunate enough to have the non-profit of choice for Oxy's fundraising dinner, Date Night, be UNA-USA's initiative Adopt a Future. Adopt a Future works to provide education to refugee children and the event was able to raise around $6,000 for the cause, thanks to the generous support of a trustee who matched donations from the night.