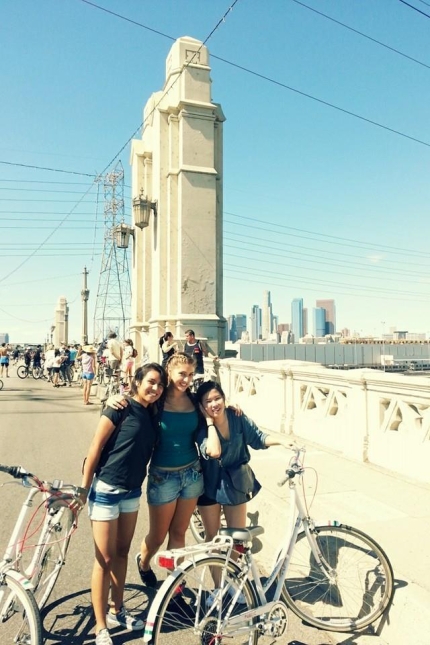 I took me a while to finally admit this to myself, but I am an indecisive person. If you can relate to this then you can imagine the difficulty I encountered when I had to chose my major. I considered at least 6 different majors before I finally decided I was going to study Urban and Environmental Policy. I took classes across several departments and realized that even though I enjoyed Sociology, Politics, Economics, Critical Thinking and Social Justice, and Kinesiology, I did not want to major in just one of those. 
My sophomore year I took the intro class for Urban and Environmental Policy and realized that it combined everything I enjoyed and even more; I felt like the decision had basically been made for me. I am now in my Junior year and still very confident that I chose the right major. Thanks to the UEP Department I have had some pretty amazing opportunities that I don't think I would have had otherwise and these are just a few of them: 
CicLAvia: For my UEP101 class we were required to attend at least 3 events off campus related to what we were learning. Professor Gottlieb suggested that we attend cicLAvia because it was a famous event where the city closed down the streets and people were able to bike around the city without worrying about cars. Some friends and I decided that we were gonna give it a try and it turned out to be one of the most fun things I did that semester. I have attended every cicLAvia after that and even volunteered at the most recent one.
Public Health Internship: Last year I took the Public Health Practicum class and was able to intern at a local clinic, Foothill Unity Center. It's hard to put my experience into words but it was so much more than I thought it would be. Foothill Unity Center is a free clinic so it focuses on serving the low-income/homeless population in Monrovia. 


One of my favorite things was listening to peoples' stories and understanding not only their health history but the other areas of their life that have had an effect on their health. Honestly most of the time I would get frustrated at how little I could do to help but it stirred an interest in Public Health and now I am going to minor in it!
Community Organizing Internship: This semester I am interning at
ELACC
(East Los Angeles Community Corporation) and so far it's going great. I get to work a little with all their campaigns but so far I have mostly focused on their METRO Campaign and Street Vending Campaign. This past Sunday we tabled at cicLAvia to inform people about our METRO Campaign and it was really cool to hear peoples' thoughts. It's been a great experience and I am excited to continue to work with them throughout the semester. 
Forming Relationships/Making Connections: I would consider myself a people person and so I love the fact that a lot of my friends are also UEP majors as and since we always seem to take the same classes we get to support each other, especially during long nights! 
So the list could go on but these have been some of the highlights I have had during my time as a UEP Major. If UEP is not your cup of tea no worries! Each department has opportunities available for their students so make sure to ask around and take advantage of them!
All bikes and no cars (yes that is someone in a cow suit. no i don't know why they are in a cow suit) 
Street Vending Campaign meeting in South LA. Usually it's inside the building but no one came to open so we improvised #nonprofitstruggles
Tabeling during cicLAvia this past Sunday. We had questions on the whiteboard for community members to answer and get them thinking about public transportation in Boyle Heights