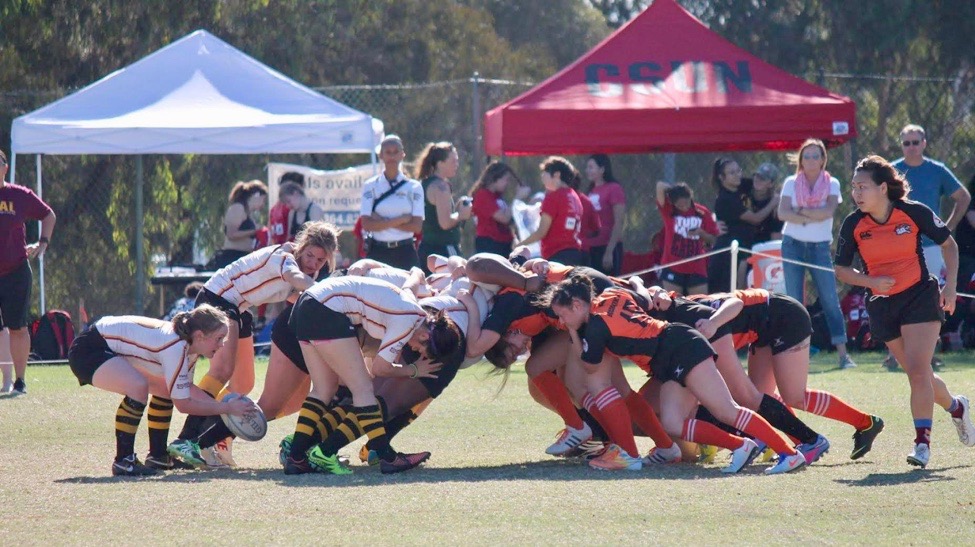 My name is Carol, I am a sophomore, I am 5 feet tall, no more and no less, and I. LOVE. RUGBY.
Never in my whole life have I done anything of the sort. Since 4th grade I've been dancing: ballet, lyrical, contemporary, jazz, hip hop, pom, really just anything you could throw at me. I even ran track and played soccer and basketball for a little while in high school. But Rugby is different. Rugby tends to get a slightly negative rep. "The girls are big," one might say. However, there's something wonderful about the rush you get before a game when you look across the field and see womxn of all body types. Some, albeit, are twice your size but then some, surprisingly, are even smaller than you. That's when I knew that Rugby wasn't for a certain type of femme, but for everyone. There's something about the way everyone is equal on the pitch that excites me. You can't judge anyone on based on their size; it's everyone's game.
When I say everyone's game, I mean it. The camaraderie that I've found not only with my teammates here at Oxy, but between our team and others in the league is something really special. The bonds I've made with these powerful, incredible femmes is something that I don't think I could find anywhere else. Of course, I might be a little biased. I think they're all amazing, and I think everyone should play Rugby, but I'm not kidding in the least when I say that the sportsmanship and the friendships that I've found in Rugby are really special to me. Nothing makes a long day of classes better than going to practice and getting to pass around a ball or practice tackling with some of my favorite womxn.
The femmes on the team always make you feel so confident and so affirmed, applauding you for every good tackle you make, and with every beautiful pass, they'll let you know that someone noticed. I've found rugby to be an emotional game, but if or when you're kicking yourself because you missed a tackle or made a bad pass, the entire team will tell you that it's no big deal, and you feel comforted. "There's always time to do better," they'll say.
See that's the thing about intramural sports at Oxy, you gain meaningful friendships combined with sport without the pressure and stress of ongoing commitment. You play in the games and go to practice because you want to, not because you have to. If you miss a few practices because you have finals the next day, everyone understands and it's no bother, especially with Rugby. The same goes for anyone looking to try it out during the year; we always welcome you and it doesn't matter if you don't know anything, we're just excited to have you.
In the fall with Womxn's Rugby, we have a tournament called "Scrum by the Sea" where schools from all around California come together in San Diego for a few friendly games, all with the sole goal of helping each other improve (and of course winning but that's just the bonus.) Claremont McKenna, UC San Diego, UC Long Beach, UC Riverside, and USC are just a few of the many schools we play against! And when spring comes, which is Rugby season, Saturday's a Rugby day. After each game, whoever's home school we are in holds a social. Pizza and Rugby songs (yes, we have songs just for this great sport) are what forms friendships and after a while you forget who won, and see everyone as your equal.
So, next time you think you might want to take up Rugby at Oxy, but find yourself thinking that "the girls are big," think again; I'm half the size of most of these girls and have yet to be seriously injured. Rugby was the LAST thing my mother wanted me to play (sorry mama), yet here I am, still walking onto that pitch with my teammates that have become some of my best mates, every game.