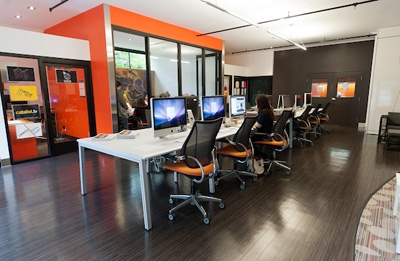 I am an involved student at Occidental College. When I am not juggling five classes,
the classics society, the Critical Thinking Social Justice journal, greek life, and my intramural soccer league, I am working at Oxy Design Service, the graphic design service at Occidental. Known around campus as ODS, we provide designs, logos, and posters to clubs, organizations, and administrators.
We have a staff of about nine designers, a business and social media manager, and a manager of all the operations. ODS is one of the more independent job options at Oxy, allowing creative people to pursue art and build up their graphic design portfolios. ODS serves a valuable function of advertizing the various activities of the school - so we always know first what the upcoming month will look like!
When I first came to Oxy, I was really concerned that I would not be able to find employment, but Human Resources helped me find open positions and a small school means premium networking. The school places a cap on the number of hours a student can work, which forces me to manage my time wisely and effectively, so I can focus the brunt of my energy on school work. The HCC (career center) also review resumes and advises students what choices they should make for their future trajectories.
Many students work on campus, so having an on-campus job can be another way to community build. In my house alone, there are students who work in the President's office, take notes for the school, advise in the interdisciplinary writing center, and plan school-wide events on our programming board. Oxy is a school where you can be as involved as you want.