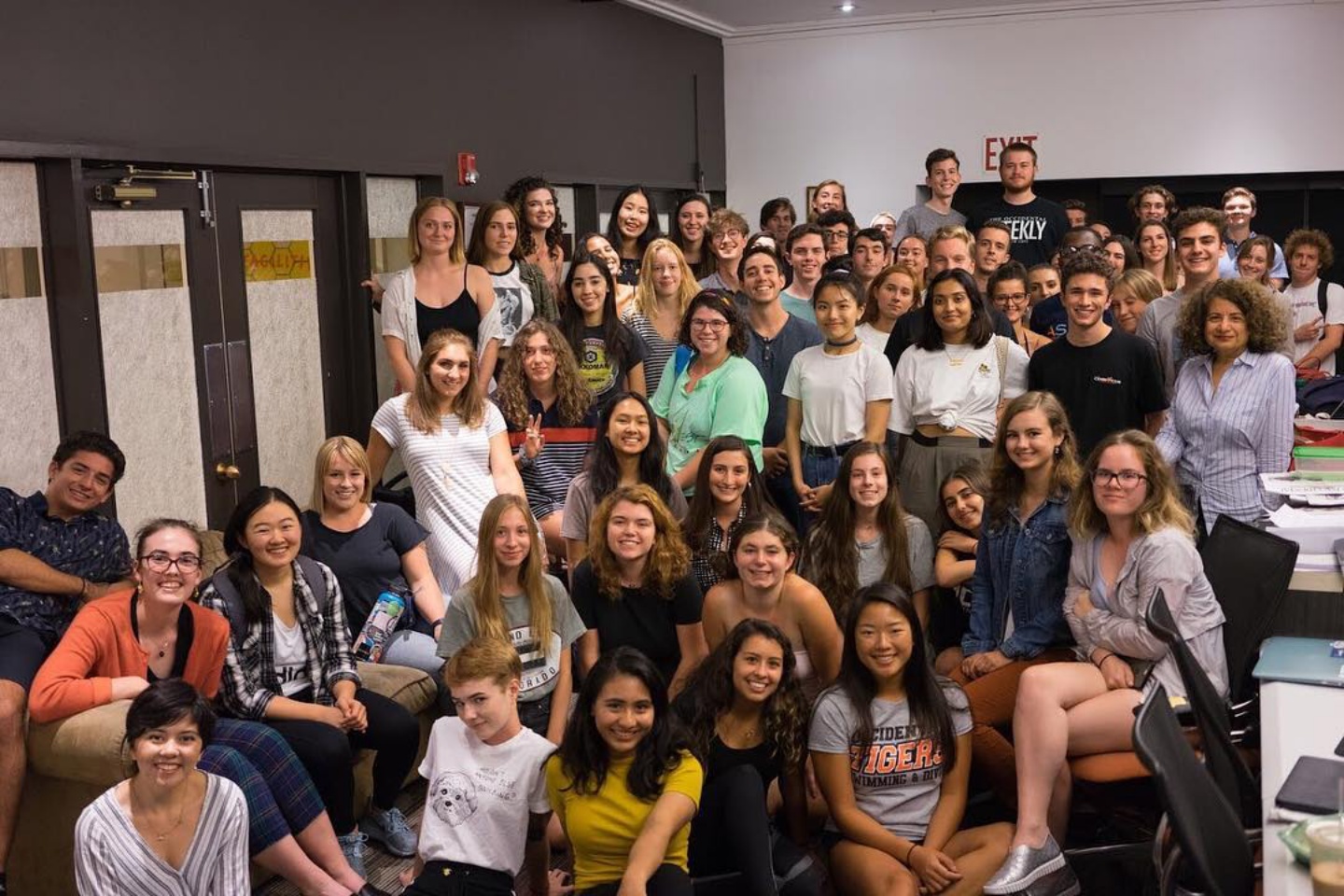 It was 2 a.m. I was sitting at a table in our newsroom with three other student editors, laptops and half-eaten sandwiches and papers strewn between us.
A few hours earlier, we had received an anonymous tip that sparked our all-night reporting marathon, and we stayed up to call sources, fact-check, and write a 1,500-word breaking news article to be published that morning. When our senior editor grabbed food in the dining hall the next day, he described an otherwise everyday mealtime rush as something newly surreal: Wherever he turned, people were bent over their iPhones, scrolling through our article. I walked into my morning class with heavy eyes and a painful need for a cup of coffee, and when my professor announced that our discussion of the reading would be replaced with a discussion about the article published a mere hour before, I did a double-take, pausing to consider the possibility that I was dreaming and had failed to wake up in time for my class. No one around me knew that I had spent the last 16 hours reporting. I fell asleep at my desk.
That's the most glamorous newspaper anecdote I have in my back pocket. The other 1,112 days, though less dramatic, shaped my Occidental experience in far more meaningful ways.
The Occidental
, founded in 1893, is Occidental College's student-run newspaper. Every week, our 90-person staff — writers, photographers, editors, illustrators, podcasters, videographers, and web designers — creates a new issue that covers campus news, culture, sports, features, and op-eds. We take pride in being a "learning paper," an organization that is accessible to anyone regardless of their past experience. Some of our staff members were editors-in-chief of their high school publications, while others walk into our office having never conducted a single interview. Working for a newspaper is a hands-on trade, and past experience matters less than a willingness to attempt a job, fail, learn, and try again. That vulnerability is what makes each of our staff members so successful.
In my first semester at Occidental, I started as a layout editor. Every Monday night from 6 p.m. to 1 a.m., I dragged-and-dropped articles, photos, and headlines on a computer screen, carefully rearranging digital boxes on an InDesign file that would soon be sent to our printing press to become a 12-page newspaper. Surrounding me were editors in their junior and senior year, sprawled across couches and chairs with laptops and slices of pizza haphazardly balanced on their laps. They worked late into the night to finalize articles for the coming week: bantering across the room about comma placement, calling sources for last-minute interviews, writing and rewriting too-long headlines until they groaned with despair. The feeling of being thrown into a bustling newsroom overwhelmed me, and thinking I was in over my head, I almost quit. Five semesters later, I was lucky enough to become editor-in-chief.
The life of a student journalist is equal parts exhilarating, tedious, frustrating, and rewarding. Our reporters
wake up at 4 a.m.
to learn how Campus Dining staff prepares breakfast for 2,000 students. They catch fast-paced
backstage interviews
with concert headliners. And they investigate urgent community issues, such as the
defunding of local elementary schools
or
FBI raids
at a city councilman's office. As a reporter, you're sometimes bringing attention to
a professor's ground-breaking invention
or highlighting moments of
student activism
and
organizing
. Other times, you're issuing a correction for an error you made while covering a story. You hope that with each new article, you can learn from last week's mistakes, and that your coverage will be an accurate record of a pinpoint in Occidental's 132-year timeline.
Working for The Occidental defined my college experience, but not because it gave me thrilling opportunities to moonlight as an investigative reporter or a lofty title to plaster across my resume. Being a student journalist on Occidental's campus taught me what it means to really, truly listen to the people around you — to focus less on yourself and instead try to understand the story behind a person's work, passions, hardships, successes. By listening to the narratives of other people, I learned how powerful it can be to care about a community and to invest in it in turn. Reporting lets you build your capacity for perseverance, discover what it takes to cultivate meaningful relationships with people, and realize the value in those rare moments of someone lending you their trust and honesty. Most of all, you find ways to engage with a community in a way that — hopefully — helps change it for the better. The classroom is where I learned about the world around me, but the newspaper is where I learned how to live in it.