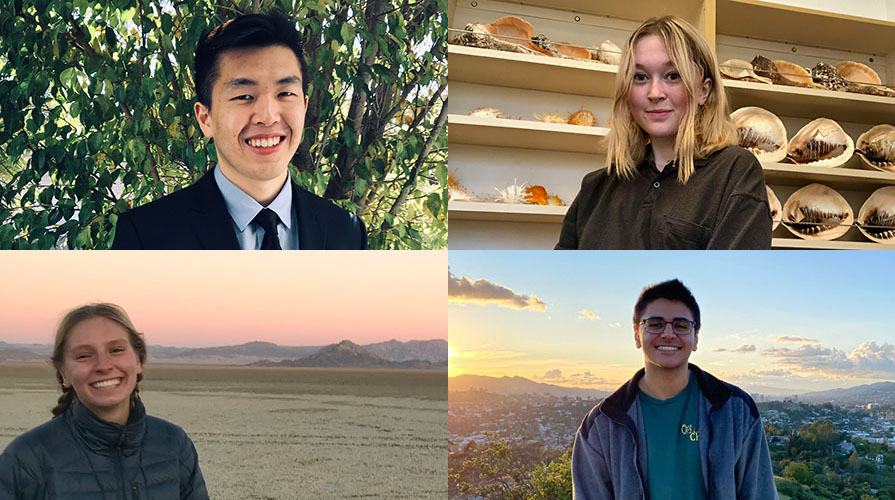 Science Scholars awards provide research and scholarship opportunities to Occidental's best students in the fields of biochemistry, biology, chemistry, cognitive science, computer science, geology, kinesiology, physics and psychology (neuroscience emphasis).
Pictured Above: Our 2021-22 Science Scholars
Benefits for Science Scholars
These highly competitive awards provide a total of $15,000 in support through the Junior and Senior years. The Science Scholar program is supported by an endowment from the Fletcher Jones Foundation and a grant from the Kenneth T. and Eileen L. Norris Foundation. The Science Scholars will receive:
Spring Junior year: study grant of $2,000
Summer after Junior year: study grant of $6,000, free on-campus housing and meal plan (if available)
Senior academic year:  study grant of $4,000
$3,000 Budget for research expenses and professional travel
The academic year study grant may affect Scholars' eligibility for loan and work-study programs.
Expectations of Scholars
The Scholars are expected to:
participate in part-time research activity (ten hours per week) during the Junior Year Spring semester
participate in full-time research activity for ten weeks during the Summer following Junior Year.
and participate in part-time research activity (ten hours per week) during their Senior academic year
prepare interim reports after Spring [junior], Summer [rising senior] and Fall [senior], and a final report for the Foundation in May of their senior year.
The research activities are expected to take place under the supervision of a faculty member at Occidental College.
Application Process
Because of the highly competitive nature of these Fellowships, a rigorous selection process will be employed. Interested candidates should discuss the application with their research mentor or the program coordinator. The application is open to students who are current juniors and who will be participating in research projects in biochemistry, biology, chemistry, cognitive science, computer science, geology, kinesiology, physics, or psychology (Neuroscience emphasis) with supervision from an Occidental College faculty in these disciplines. Students planning to study abroad or away from campus during the grant period are not eligible.
The program review committees will determine which students will be considered for each award. Applications will be reviewed by the committee and those selected will be invited to advance to the interview process.
The elements of an application include:
Application Cover Sheet

(The Google form is only accessible to the Oxy community so you will need to be signed in to your Oxy email.) Be sure to complete the required form and attach the following components as a single file.* 

A 250-word abstract of the research proposal (on a separate page).
A scientific proposal, limited to five pages, prepared by the applicant, which includes each of these elements:

A brief survey of the background of the problem, its importance, known results, and directions for future research.
A statement of the specific question(s) to be investigated, and the proposed methodology.
A discussion of the applicant's earlier research work in this field and, in particular, any results obtained in the proposed area.
A brief appendix consisting of diagrams, references and similar information may be included. The appendix will not count toward the page limitation.

Personal information, limited to three pages, including:

One-page resume
Two-page personal statement describing the nature of the applicant's interest in scientific work, career goals in science-related fields and professional aspirations.
Include a list of previous honors, awards, presentations and publications and other achievements in the resume or personal statement.  

A detailed materials budget
A required Letter of Support Form and a letter from the proposed research mentor. (Letters should be submitted separately from the application and will be considered confidential).
A copy of your current (Fall and Spring) class schedules including days and times
Occidental transcripts will be obtained by the URC.
*All contents will need to be merged into a single file. Use Adobe Acrobat or DOCUPUB to merge multiple files into a single PDF. Please use 1.5 spaced text, one-inch margins, and at least 11-12 point font, and save your applications packet before submitting as: Last name, First name_ Science Scholars.
The applications will be reviewed by a committee consisting of the Chairs of the specified science departments. Applications will be judged on the basis of the quality of the scientific proposal and prospects for successful progress, the strength of support from the proposed research mentor; and the student's potential for leadership in science.
---
2020-21 Program Committee
Dr. Andrew Udit
Professor of Chemistry
Chair, Biochemistry Department, Occidental College
Dr. Joseph Schulz
Professor of  Biology
Chair, Biology Department, Occidental College
Dr. Michael Hill
Professor of Chemistry
Chair, Chemistry Department, Occidental College
Dr. Sasha Sherman
Professor of  Cognitive Science
Chair, Cognitive Science Department, Occidental College
Dr. Kathryn Leonard
Professor of  Computer Science
Chair, Computer Science Department, Occidental College
Dr. Chris Oze
Professor of  Geology
Chair, Geology Department, Occidental College
Dr. Stuart Rugg
Professor of Kinesiology
Chair, Kinesiology Department, Occidental College
Dr. Alec Schramm
Professor of  Physics
Chair, Physics Department, Occidental College
Dr. Andrew Shtulman
Professor of  Psychology
Chair, Psychology Department, Occidental College
Program Coordinator
Dr. Ron Buckmire
Professor of Mathematics, Occidental College