During the school year, I am active as the secretary of the Pilipinx United Students Organization. I am also active in Occidental's only gender-neutral Greek organization Zeta Tau Zeta as the Traditions Chair and Project S.A.F.E. (Sexual Assault Free Environment) Liaison. This summer, I have been working in Culver City as the Outreach Intern of Brave New Films, a social justice documentary non-profit. I live in a house with several other members of Zeta near Oxy.
My internship at Brave New Films is my first office job as well as my first opportunity to work with a non-profit organization. I share my office space with an Outreach fellow, a Faith Outreach Manager, and the Outreach Director, who supervises all of us. Our objective is to reach out to different educational institutions, faith communities, and activist groups to share our documentaries with as many people as possible. The Outreach department works very closely with the Development and Distribution departments, which consist of a Distribution intern, a Development fellow, the Social Media manager, and the Director of Strategy and Distribution. Collectively, we work to distribute and publicize our films in such a way that they can have the most social impact, whether this is through Twitter and Facebook, or through strategic emails and phone calls to individuals and groups who might be most interested in our films.
I deeply admire the work that Brave New Films does as a whole. In the time that I have been here, we have released three incredibly powerful short videos online. Firstly, MoCo Students for Change is part of our Youth in Action series, focusing upon a group of high school students in Montgomery County, Maryland who organized and marched in Washington D.C. to advocate for stronger gun control. This video and this series are largely focused upon the power that young people have to make change. Secondly, Families Torn Apart: America's Deadly Immigration Policy is part of our Immigrant Prisons series, highlighting the effects of the family separation crisis at the southern border. Thirdly, How Much Are You Paying Trump To Golf? looks into the statistics surrounding President Trump's government spending on his golf trips to Mar-A-Lago, and how this money could have been funding several solutions to humanitarian issues in the U.S.
Brave New Films focuses on a wide variety of national social justice issues, and I'm immensely grateful to be a part of it. On a day-to-day basis, much of my work includes creating contact lists that I or any other members of the Outreach department can use to increase the reach of our films. For example, I have created an extensive list of celebrities and politicians with their social media accounts, publicists, and social justice issues upon which they have spoken out about in the past. Later, I used this list to tweet at different celebrities who are passionate about immigration to further promote our family separation piece. I have also created contact lists of different colleges and universities in Georgia in advance of the voter suppression piece that will be released in September. Furthermore, I curate posts for our Brave New Educators Facebook page, which is the subdivision of Outreach that focuses upon schools. To further support Brave New Educators, I uploaded our film packages as lessons to an educational database created by the American Federation of Teachers. Of course, I will also do the occasional task that is typical of an "intern", like working with DVD's, editing documents, and inputting data.
Some of this work has visible results that led to another new experience for me. I curated and utilized a contact list of Los Angeles high schools, colleges, and universities to secure screenings for the films we've already released. In this process of reaching out to different educators in Los Angeles, I secured a screening at the University of Southern California's Sol Price School for Public Policy. On July 19, I served as a guest speaker for Public Policy and International Affairs' (PPIA) public service weekend (PSW), Social Justice and Public Service: Think Globally, Act Locally. I served as an ambassador for Brave New Films, screening one of our film series about immigration, Home is a Human Right, for a variety of students in the Western Region with an interest in public policy. I even had the chance to lead discussion about the films, processing the issues touched upon in the film and increasing many students' understanding of the topic. To know I really made a difference here was invaluable, an experience I will not soon forget.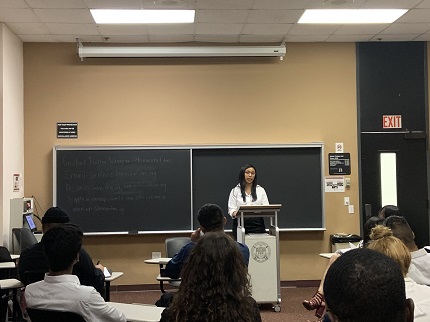 What makes this work especially worthwhile for me is the community I have developed as a result. I know my position is temporary, but everyone here treats me with so much respect for which I am so grateful. I am closer with all of the wonderful people in my department, who I support and attend meetings with every week. We even had a bit of a watch party during the first Democratic primary debate in June, which involved some social media work, but also served to be a great bonding experience for us. I enjoy much of the time spent here, especially when I have lunch with my co-workers in other departments. There are three other Oxy interns here this summer. Ruby Ferehawk ('21) works in Development and Fundraising; both Tatiana Garnett ('21) and Mimi Miyamoto ('21) work in Production. I know that I will work to maintain these connections made as a result of this position when I return to Oxy in the fall, and I am immensely grateful for this opportunity. Not only has this been an opportunity to develop my professional skills, but a chance to advocate for causes that really matter to me in a way that allows me to grow as an advocate and a person. I know this growth will be maintained through the end of this internship and beyond.