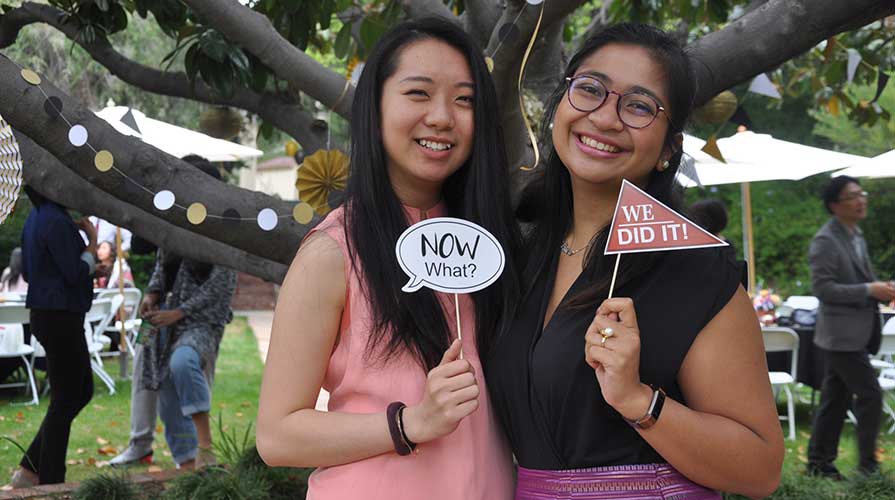 The Interntional Programs provides meetings regarding your options after graduation from Oxy. Whether you decide to return home or stay in the U.S., see what next steps you must take to prepare.
Option 1: Apply for the F-1 Optional Practical Training
Students may be eligible for 12 months of paid work in the U.S. after graduation. This practical training allows students to gain work experience in their field of study. You do not need to have a job to apply. Rather, it allows you to seek work related to your major.
This is a benefit of the F-1 student status, not a work visa. While on OPT, you continue to report to IPO the following changes: address, e-mail, phone number, employment company, position, how it relates to your major and start and end dates.
Read the Rules while on OPT & "I'm graduating from Oxy...what next" PowerPoint
Eligibility
You are completing your academic program or graduating from Occidental.

You have completed the entire final year at Occidental.

You have maintained lawful F-1 status.

You are seeking employment only in a field directly related to the major.

You have not exceeded 1 year of full-time CPT prior to graduation.
Application Process
Review the government regulations on OPT.  Complete the OPT packet available to graduating seniors. 

Submit a complete OPT application to IPO by Feb. 10, 2020, to request a new I-20. Review the packet for instructions.

After the meeting, you must mail your entire application to be received by USCIS no later than 30 days after meeting with IPO.
Start and End dates: The work start date must be within 60 days after the end date on your I-20. The OPT end date will be 12 months later (within 14 months of graduating).

Processing times: Check the USCIS website for current processing times. You may apply no earlier than 90 days before the end date of your program and no later than 60 days after graduation.

While application is pending:  Use caution if you travel abroad while OPT application is pending.  If USCIS requires further evidence (RFE), you must be prepared to provide that evidence within a limited number of days.  Additionally, you must have the following documents to reenter the US:  1-20 recommending you for OPT, valid F visa stamp in your valid passport, EAD card and a letter from an employer stating that you are returning to resume work or interview.  See packet for details.

STEM Majors: Some STEM majors may qualify for a 24-month extension. Students must first apply for regular OPT. After this, they may apply to extend. Consult with IPO.

Earn a second degree at a higher level, get another 12 months: You are eligible for an additional 12 months of practical training if you have completed a second degree at a higher level. If you got your bachelor's degree, applied for and received 12 months of OPT, and then complete a master's or Ph.D., you are eligible to apply for another 12 months of OPT.
Option 2: Attend a Graduate School in the U.S.
If you plan to continue on to a U.S. graduate school, your SEVIS record must be transferred to the new institution within the 60 days of graduating from Occidental. You must begin classes within 5 months of the transfer.
Please submit your request here. You will be asked to upload a scan of the acceptance letter and any forms that your new institution may require from our office. Your new institution will issue a new I-20 reflecting their institution for you. If you leave the U.S. before starting, you must re-enter no earlier than 30 days before the new program start date on your new I-20.
Please email us for any additional questions.
Option 3: Return Home from the U.S.
If you plan to return home after graduation, you are allowed to stay in the U.S. for an additional 60 days to prepare for departure. If you leave the US.. before 60 days and plan to re-enter, you must do so on another kind of visa.