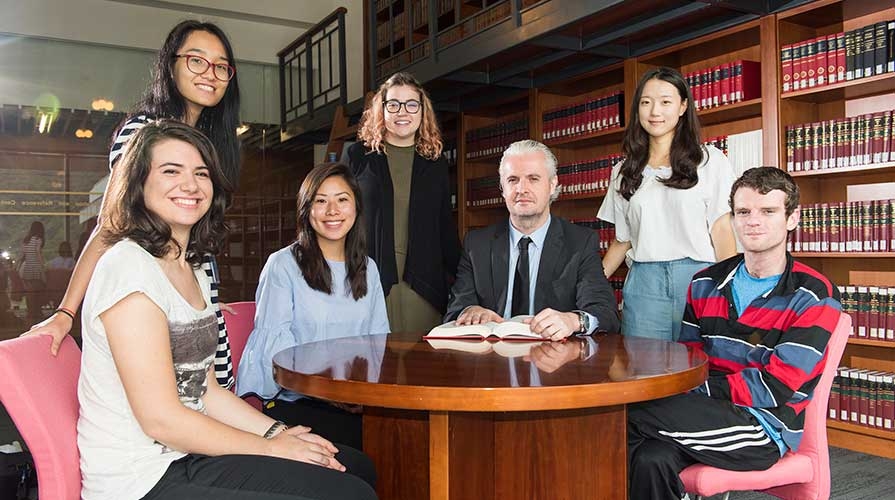 Conduct Research at a Leading Chinese University.
In collaboration with our partner, the Chinese University of Hong Kong (CUHK), we are pleased to introduce a new exciting opportunity for Occidental Richter scholars. Students will be able to conduct research among an international cohort of students across multiple disciplines under the supervision of a CUHK faculty supervisor. There is an array of cutting edge and scholarly work students can choose to explore with over 100 research projects available.
The Chinese University of Hong Kong has been a study abroad exchange partner with Occidental College for over 10 years. Founded in 1963, CUHK is a comprehensive research university rooted in Chinese culture and centrally located in East Asia, with a bustling modern metropolis. CUHK distinguishes itself through its rich Chinese cultural heritage, a bilingual and multi-cultural tradition.
If you would like to know more, watch this promotional video for the program.
Ready to apply? Jump to the application instructions.
Faculty of Arts
Faculty of Business Administration
Faculty of Engineering
Faculty of Law
Faculty of Medicine
Faculty of Science
Faculty of Social Science
Center for China Studies
CUHK Jockey Club Institute of Ageing
Some example projects include:
Carbon Sequestration in Green Roofs of Hong Kong
Cultural Neuroscience
Adolescent Obesity in Hong Kong-post-trial Follow-up After Exit From a Dietary Intervention
World Trade Organization Law and Policy
Neuroregeneration in Rodents
Law of International and Regional Economic Integration
International Relations in Northeast Asia
Quantifying Effects of Ozone Air pollution on Agricultural Productivity
Cosmic Ray Measurement, Analysis and Modeling
Continue to the Application Process to learn more.
In-country support and infrastructure including
On-site orientation
Cultural activities
Health and safety support
Research project supervisor
University-sponsored housing
3 credit independent research course
Student visa
---
Application Instructions
A complete application consists of the following components:
1. Personal Statement
2. Literature Review
3. Two Faculty Recommendations (one MUST be from your faculty supervisor)
4. Complete CUHK Application
Personal Statement
The three-part statement of purpose is the most important part of the application. It is reviewed by the International Programs Committee for clearly articulated:
research, academic and/or intellectual goals;
informed interest in the culture, REQUIRED: do some RESEARCH and CITE your sources.
preparation to face the cultural challenges in the community;
maturity, motivation, and flexibility.
REQUIRED: do some RESEARCH and CITE your sources.
Address each of the following parts in a double-spaced essay of no more than 300 words each.
Part 1 – Country and Culture
Why this particular country and culture? Why do you want to engage with an international cohort of researchers from around the world? Why are you interested in doing research at the Chinese University of Hong Kong? What is your selected research area? What research topic or projects have you identified as your top three choices and why?
Part 2 –Research Track
In contrast to the other research tracks, which features of the university-based research track will advance your goals for research abroad? How? Which features create challenges and how will you meet those? Describe any experience you have that is directly relevant to this program.
Part 3 – Growth and Development
How will research abroad contribute to your development (intellectual, cultural, career, or otherwise) or overall life plans? What do you plan to DO upon return to Oxy and beyond graduation with your degree . . . and how do you hope research abroad will help?
Literature Review
A literature review is an opportunity for you to explore your research idea. A literature review is a short paper that critically analyzes a published body of knowledge through summary, classification, and comparison of prior research. It offers an overview and assessment of the current state of knowledge on a topic and will help you insure that research on your topic has not already been done. Unlike an annotated bibliography, a literature review is presented as a structured critical paper rather than a listing and description of bibliographical works researched.
Additional information on the literature review
Faculty Recommendation
You will be required to submit two faculty recommendations. One of the recommendations MUST be from your supervisor. Oxy's on-line application system will assist you in requesting these and IPO will forward the forms for approved applicants to our partners—no need to fill out program-specific forms. Be SURE to discuss your proposal and/or send a copy of your essay questions to your recommender. They cannot complete the form unless they know your reasons for research abroad.
*The SURP application is now open! The University Facilitated Track is a two-step application process. Do not delay in applying for the CUHK Surp program. You may submit the SURP application before the Richter February 1st deadline. Find information on the CUHK application process
Apply Now!